36
Well, it's back to reality for me. Back to high heels and pencil skirts, meetings, and a never-ending inbox. But it's also back to very fun things like whipping up meals in my own kitchen, summer in Seattle, afternoons spent on the lake, and my puppies, of course.
Having arrived back in Seattle on Sunday, and preparing for the reality that awaited (flip-flops and bathing suits no longer being acceptable attire, a seemingly absurd requirement by The Man that I brush my hair before leaving the house, and a general disapproval for drinking Gin & Tonics with my lunch), I of course took the obvious path which was to procrastinate about everything I should be doing. Instead, I enjoyed fixing some delicious make-ahead meals to get us set for the week, and in front of our CSA veggie supply.
These tossed new potatoes with a mustard dressing and fresh snap peas were delicious served warm with a few deviled eggs on the side, and provided a lovely Monday lunch as well, tragically enjoyed at my desk, with nary a G&T in sight. There is a fair amount of lemon and mustard in the dressing, but don't let that scare you. It results in a light, tangy taste, perfect for the summer heat.
Make this when reality is looming, but you aren't quite yet willing to give up the ghost of summer days of wonder and indulgence.
GIVEAWAY: I'm excited to share that for those local readers, or those willing to get on a plane, train, or automobile Shut Up & Cook has gotten our hot little hands on two tickets to Seattle Weekly's Best Of Seattle Party on Wednesday, August 1st at Pier 66, Elliot Hall.  This blow-out party showcases Seattle's best food, drinks and entertainment on the waterfront with unlimited bites, craft cocktails, live music, and installation art.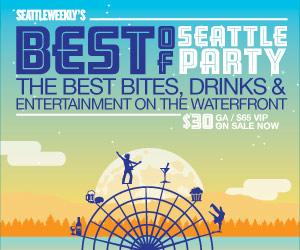 HOW TO ENTER: Comment below by Friday, July 13th at Midnight PST with either A) the name and link of another favorite food blog or B) a recipe you'd like to see done on Shut Up & Cook. The winner will be randomly chosen on Saturday, and will be the lucky recipient of two tickets!
Summer New Potatoes in a Mustard Vinaigrette
Serves 4 – 6

1 lb new potatoes, washed, and trimmed of any bad spots
1/2 cup Dijon mustard
1/4 cup fresh lemon juice
2 tablespoons red wine vinegar
1 teaspoon capers, minced, plus 1 teaspoon of brine from the jar
1/3 cup extra-virgin olive oil
1/3 cup canola oil
1 cup snap peas, quickly blanched
1/4 cup fresh dill, finely chopped
Salt and Pepper
 In a large pot, cover the potatoes with water. Bring to a boil, reduce to a simmer, and cook just 15 minutes. Drain and rinse with cool water to stop cooking. Pour into bowl.
Meanwhile, to make the dressing, add remaining ingredients, except for the snap peas and dill, into a jar and shake until well blended.
Pour about a third to half the dressing over the potatoes and toss to coat. You may add more or less pending on your preference. Note: Remaining dressing is delicious as a marinade or salad dressing.
Toss with snap peas and fresh dill and serve warm or chilled.
Category 15-Minute-Meals, Cheap Eats, Health Conscious, Lactose Free, Make ahead, Salads, Seasonal Cooking, Uncategorized, Vegetarian | Tags: Best of Seattle Party, deviled eggs, dill, Free Tickets, hand farmed organics, lemon, mustard dressing, new potatoes, seattle party, Seattle Weekly, snap peas, what to do with CSA veggies
---