5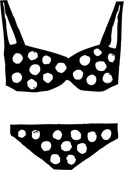 Sometimes we all need a little pick-me-up. Something to make us feel like a million bucks. These moments can happen in our personal lives, in our careers, and if you're a passionate, but albeit, untrained cook, in the kitchen.
If ever there was a comparison to the WonderBra in the kitchen, these grilled flatbreads are it. They are easy, fun, delicious and sure to impress a crowd.
Make them when you're looking for the culinary equivalent of a double take. These babies are guaranteed to deliver it.
Grilled Fig and Prosciutto Flatbreads
Serves 3-4. Can easily be doubled for a crowd.
Pair with a champagne or sparkling wine for the ultimate gourmet, chic, (and effortless) meal.
Ingredients:
One 12-ounce ball of pizza dough, at room temperature (the plain dough from Trader Joes is super cheap and easy)
All-purpose flour
1/8 cup extra-virgin olive oil
1/4 cup fig jam (from a 6-ounce jar)
1/4 pound Mozzarella
3 ounces sliced prosciutto
2 cups arugula
Turn your grill on and allow to get quite hot (about 500 degrees).
Divide the pizza dough in half and on a floured surface roll out into two, 12-inch circles. Lightly brush one side of the dough with olive oil.
When the grill is to the desired temperature, put the pizza dough rounds on the grill, oil side down. It may look like they are going to do terrible things like fall through the grates or make a big sticky mess, but they won't. Close the grill and cook until bottoms are golden brown and beginning to puff up. Flip the dough and allow to just slightly cook on the other side (you're essentially just getting it firm enough that you can handle it). Remove from grill and transfer to a plate.
Top the pizza (the first side you cooked) with a thin layer of fig jam, prosciutto, and mozzarella.
Return to the grill and allow to finish cooking (the dough should be slightly blackened in spots and the cheese should be fully melted and bubbly).
Remove, top with arugula (allowing to slightly wilt) and serve.
Category 15-Minute-Meals, Entertaining, Mains, Uncategorized | Tags: arugula, fig, flatbreads, mozzarella, pizza, prosciutto
---