30
Fish Taco White Sauce. That is the number two most frequent search term that gets people to Shut Up & Cook is? Tragically it is not "witty, smart, brilliant, and good looking home cooks". Nor is it "the next Rachael Ray". And while I'm sure it's bound to happen at some point, I have yet to see Google searches for "next food blogger who is going to make it big" top the list.
And do you want to know what # 3 is?!?
white sauce for fish tacos
How not sexy is that? Alas, I've had to come to the reality that what people really want…what they truly desire is fish tacos. And how can you blame them? They are amazing.
Back in November of 2009 (hard to believe that was 2+ years ago) I did a post about Shockingly Good Baja Fish Tacos. Since then I have eaten many more fish tacos (some good, some great, some bad), but I hadn't made them again until this past weekend when overcome by a craving I couldn't ignore, I simply had to have them. And to prove to my Mom that fish tacos could be delicious ("Honey…I have to say…I just don't get it….fish tacos? Really?")
They were just as good as last time, if not even better thanks to the delightful company of our friend's CJ, Nadia, and Harrison and the amusing conversation that ranged from politics, to commerce, travel, to relationships, and a very entertaining, wine-coming-out-my-nose, attempt to explain to my mother what the term "punks" meant. Needless to say CJ's attempt at providing a Sid Vicious reference did nothing.
These are a little messy to make, and yes your house will be a little smelly for a few hours, but you should do it. Because hey…if nothing else, fish tacos make an excellent white sauce delivery system.
Baja Fish Tacos with Fish Taco White Sauce
Step 1 – Fish Taco White Sauce:
Fresh lime juice to taste (I like about 2 TB)
½ cup sour cream
½ cup mayonnaise
1 TB Sriracha hot sauce (or something similar)
½ teaspoon – crushed oregano
½ teaspoon – ground cumin
½ teaspoon – dried, crushed dill
½ teaspoon – ground cayenne chile
ground white pepper to taste
 Combine the first three ingredients, aiming for a slightly runny consistency. Add the rest of the ingredients and mix.
Step 2 – Toppings Bar: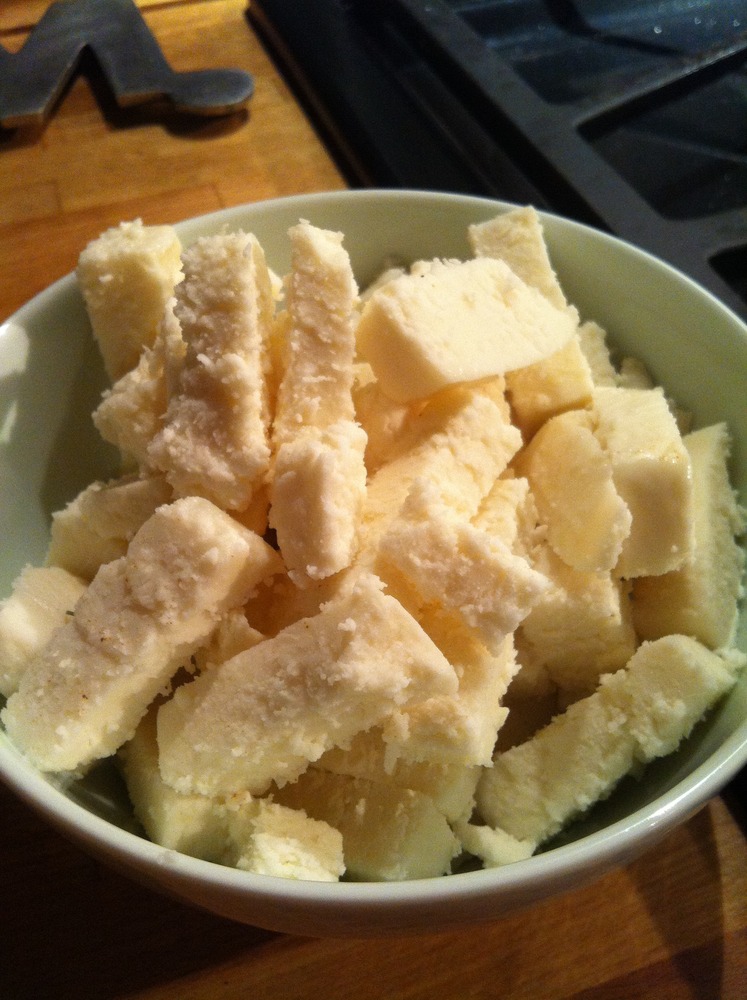 1/2 bundle cilantro
2 cups red cabbage
1 cup queso fresco
2 limes
Coarsely chop cilantro and set aside in small bowl for toppings. Dice queso fresco and set aside in separate bowl. Cut up the cabbage. Slice as thinly as possible so the strands still stay together. Set aside in bowl. Quarter the limes and serve one wedge with each plate and extras in a bowl.
Step 3 – The Fish:
Cod works well, although you can use whatever white fish you prefer. Since it's going to be battered and fried this is a great opportunity to take advantage of whatever is on sale.
2 LB White Fish washed, patted dry, and cut into 1 inch strips
Batter:
1 cup flour
2 teaspoons salt
1/2 can beer, not dark
Combine flour and salt, then add beer. It should be relatively thick, which was nice since the batter actually stayed on the fish when we fried it.
Fill large saucepan with vegetable oil or lard. You want enough that the fish can be submerged in it. Get it nice and hot and cook the fish in batches, being certain not to crowd the pan as you want the oil to stay hot.
Turn the fish after about a minute. Look for the color to decide when to remove. As soon as it's golden, you're good to go. Remove and place on a plate with a paper towel to drain.
Serve immediately with tortillas, white sauce, and toppings. Enjoy.
Category Cheap Eats, Comfort Foods, Entertaining, Seafood, Uncategorized | Tags: baja fish tacos, fish taco white sauce, google searches, home cooks, sid vicious, white sauce, white sauce for fish tacos
---