1
Part of what I love about traveling is discovering a place through its food. What people eat, how they cook it, what their rituals are for sharing it together; all these things can give you an insight into their world far better than travel books or tour guides.
Just back from San Pedro, a little caye off of Belize and feeling relaxed, recharged and happy. We ate incredibly good while we were there (more on that in a later post), but I did also find myself itching to get back into my kitchen and making the cozy foods that have come to be synonymous with Winter for me.
Nothing says that better than Gourmet Chicken Pie.
Serves 6-8
This recipe calls for cooked chicken making it a great way to use leftovers. If you don't have any cooked chicken just poach a few chicken breasts.
Offer with a simple Italian Red Table Wine. I find this recipe needs no sides, but certainly you could always add a green side salad if you like.
Filling:
4 cups chicken stock
2 carrots, peeled and cut into 1 inch pieces
3/4 lb red potatoes, quartered and cut into 2 inch pieces (about double the size of carrots)
2 large celery ribs, cut into 1 inch pieces
2 1/2 cups cooked chicken, cut into 3 inch pieces
3/4 stick butter
1 medium onion, chopped
6 TB Flour
1/4 tsp nutmeg
1/2 cup minced parsley
For Biscuit Crust:
1 1/3 cup flour
1 1/2 tsp baking powder
1/2 tsp baking soda
1/2 tsp salt
2 TB cold, unsalted butter cut into bits
2 TB vegetable shortening, cut into bits
1/2 cup grated sharp Cheddar
1 large egg
1/3 cup well shaken buttermilk
1 TB Butter (for brushing the tops of biscuits with).
Directions
Bring stock to a boil. Add carrots, potatoes and celery and simmer, uncovered just until tender.
(In my opinion one of the great flaws of most Chicken Pie is the over-cooked (read: mushy), veggies. Just lightly cook these enough that with about 20 more minutes in the over at 450 they'll be tender, but not over done.)
With a slotted spoon, transfer vegetables to a large bowl. Reserve broth for later.
Melt butter in 2 – 3 quart sauce pan. Add onions and cook, occasionally stirring until softened. About 6-8 minutes. Add flour and cook, stirring for 3 minutes, to make a roux. Add reserved  broth in slow stream whisking constantly and bring the gravy to a boil. Reduce heat and simmer, whisking, for 3 minutes. Stir in nutmeg and parsley. Remove from heat. Pour gravy over chicken and vegetables and stir just until combined. Pour into 4 QT baking dish.
Biscuit Crust:
Put rack in middle of oven and pre-heat to 450 degrees.
Sift together flour, baking powder, baking soda, and salt. Blend in butter and shortening* until mixture resembles a course meal. Stir in cheese.
*(this is where a pastry blender, one of those silly, only does one job, kitchen gadgets really comes in handy. If you don't have one you can use your hands or two forks).
Break egg into a measuring cup and add enough buttermilk to total 1/2 cup. Add to flour mixture, stirring until a dough forms. Gather into a ball.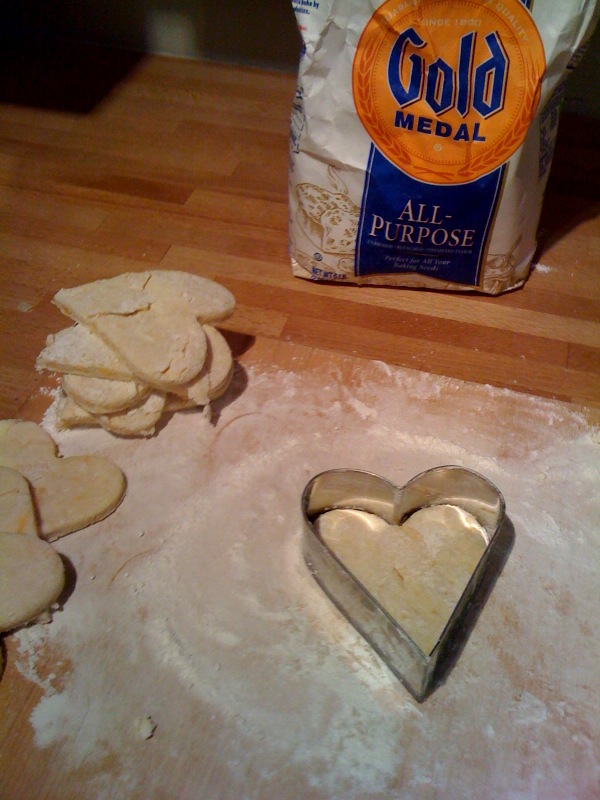 On a lightly floured surface roll out the dough to 1/2 inch thick. Cut out as many as you can, then gather scraps, re-roll, and repeat.
Arrange biscuits on tops of filling, brush with butter, prick with a fork.
Bake until biscuits are puffed and golden and filling is bubbling. About 15 – 25 minutes.
Adapted from The Gourmet Cookbook
Category Comfort Foods, Poultry, Uncategorized | Tags: biscuits, chicken, gravy
---