16
Recipe: Arugula with Skinny Caesar Salad Dressing and Grilled Shrimp
My crew is off on an adventure. Or a man-venture as I like to say as it includes all sorts of things my crew likes such as sleeping under the stars, driving across deserts, getting lost, finding lost treasures, and just generally disappearing for a bit.
This leaves me to a week of flying solo. Of shamelessly dancing around to country music, of reading horse fiction for hours, of eating eggs morning, noon, and night. There are power naps, disco naps, napping with a bag of truffle popcorn. And of course, there is the chance for quiet moments, for contemplation, and for happily bumping around the kitchen, all to myself.
If you're a frequent reader of Shut Up and Cook | The Attainable Gourmet you know that my obsession with Caesar salads borders on embarrassing. However, and though I'm loath to admit it, there are times when a dressing that requires a cup of oil is just not going to cut it, particularly with bikini season looming its head right around the corner.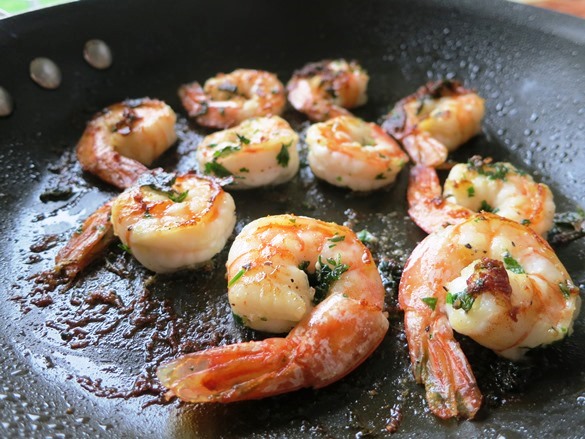 This Skinny Caesar Salad Dressing is a wonderfully lightened up version of the old classic; sharp pecorino is balanced by the acidity of the lemon, the kick of the garlic, and the earthiness of the anchovies.
Serve it when you're on your best behavior, even if no one is looking.
Arugula with Skinny Caesar Salad Dressing and Grilled Shrimp
Serves 2 as a main, 4 as an appetizer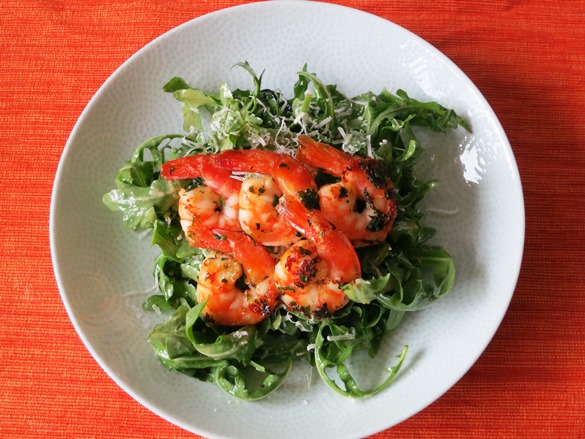 8 cups baby arugula, washed and dried

1/2 lb jumbo shrimp (shell off, tail on), marinated in olive oil, lemon juice

1 clove garlic, minced

3 anchovy fillets, coarsely chopped

2 teaspoons fresh lemon juice

1/4 cup extra virgin olive oil

salt and pepper to taste

Shaved pecorino
Combine the garlic, anchovy fillets, and lemon juice. Allow to sit for 10 minutes.

Using an immersion blender, add the olive oil in a slow stream until creamy and emulsified. Season to taste with salt and pepper. Set aside.
On the grill, or using a dry, hot cast iron skillet, cook the shrimp until pink and firm, and just cooked through about 2-3 minutes per side.
Toss the arugula with the salad dressing, divide among plates, top with shrimp and finish with generous grating of pecorino.
Category 30-Minute-Meals, Gluten Free, Health Conscious, News, Salads | Tags: anchovy, arugula, garlic, healthy caesar salad, lemon
---