25
It is such an honor to be hosting my first guest blog post by The Katherine Martinelli. If you knew Katherine, you would be in complete agreement that she must only be called The Katherine Martinelli, as only so grand a name would do her talents, beauty inside and out, and incredible generosity justice.
About a year ago when I decided to really make a go of this food writing business, a friend suggested I reach out to Katherine.
"She's making it…she's really making it," our mutual friend Julia boasted to me. And so with slight nervousness and trepidation I emailed Katherine, who was and is currently residing in Israel. Bounding back across the interwebs came her reply, full of wisdom and grace, encouragement and confidence. It was exactly what I needed at that moment, and so buoyed by her success and her passion, I jumped in.
Shut Up & Cook would absolutely not be where it is today, without Katherine and her endless guidance and positivity. And so with no further ado, I introduce you to The Katherine Martinelli and her delicious Orecchiette with Leeks and Ricotta.
***
I can't tell you how thrilled I am to be guest posting on Shut Up & Cook | The Attainable Gourmet. Erina and I have known each other since college, but I don't think that back then either of us could have guessed at the other's budding culinary dreams. Although we haven't seen each other in many, many years it's been amazing to reconnect virtually through our blogs and shared love of food.
I love Erina's easy-elegant style (which is so perfectly summed up in her new tagline – The Attainable Gourmet) and knew I needed to offer a recipe to match. This pasta dish certainly fits the easy bill – it can be ready in less than 30 minutes, making it a perfect weeknight meal. I love little time saving tricks, like adding the peas to the pasta water towards the end so they cook together.
And, for some reason, I associate leeks with elegance. They're one of those simple ingredients that have the power to transform an entire dish. Maybe because they're like refined, more subtle onions with a more complex flavor. Be sure to stop by my blog, where this week's blog hop theme is leeks!
Despite being a weeknight dish, this pasta is also a tad indulgent with cream, ricotta and Parmesan. I'm a sucker for ricotta and would put it in everything if I could. Ricotta and arugula is a particularly alluring combination for me, which is why you'll find the leafy green here as well, just tossed in at the end.
I like orecchiette, those funny little pasta hats, for this recipe, but any shape would work. Don't forget to reserve some of the cooking liquid for the sauce. It's a trick my dad has taught me time and time again, and it makes a world of difference. The starch in the pasta water helps the sauce stick to the noodles, and makes the final product all the silkier and delicious.
You can find Katherine at www.katherinemartinelli.com, as well as on Facebook and Twitter.
Orecchiette with Leeks and Ricotta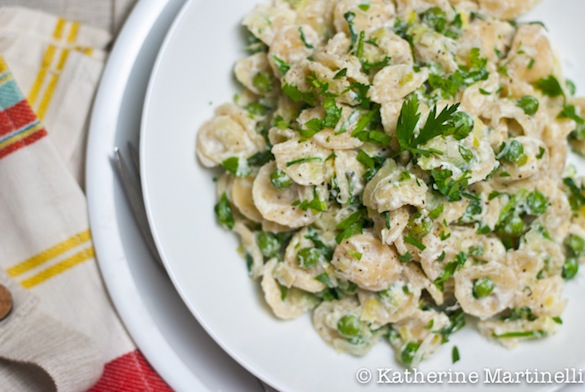 Yield: 4 servings
Ingredients:
1 pound orecchiette or short pasta of your choice
10 ounces peas, fresh or frozen
1 tablespoon olive oil
1 tablespoon butter
2 large leeks (white and light green parts only), thoroughly cleaned and thinly sliced
Salt and pepper
4 cloves garlic, finely chopped
½ cup heavy cream
½ cup grated Parmesan, plus more for serving
¾ cup ricotta
Zest and juice of 1 lemon
¼ cup roughly chopped parsley
¾ cup roughly chopped arugula
Instructions:
Cook the pasta in a large pot of salted, rapidly boiling water until almost done. Add peas and cook for another few minutes. Reserve ½ cup cooking water, drain and set aside.
Meanwhile, heat the oil and butter in a large saucepan over medium heat. Add the leeks, season with salt and pepper, and cook until soft, stirring often.
Add the garlic and cook for another 2 minutes.
Add the cream, Parmesan and a splash of the pasta liquid. Cook another 2 minutes.
Add pasta and peas, ricotta, and lemon juice and zest. Toss to coat.
Remove from heat and stir in the parsley and arugula. Season with additional salt and pepper and serve with grated Parmesan.
Category 30-Minute-Meals, Guest Posts, News, Pasta, Vegetarian | Tags: katherine martinelli, leeks, orecchiette, ricotta
---