6
Recipe: Jalapeño Margaritas
This past March I was sitting on the precipice of a significant and exiting (and yet not un-risky) career shift. In typical form I had made lists to evaluate and matrices to measure the pros and cons, but in my gut I was still unsure of what to do.
Early one morning while tossing and turning a midst snuggling and snoring dogs oblivious to life's complexities I decided sleep was not to be retrieved and picked up my phone to get started with the day.
An email had just come through from my Dad at 4:52a, which he closed with the following quote from Goethe:

"Until one is committed, there is hesitancy, the chance to draw back– Concerning all acts of initiative (and creation), there is one elementary truth that ignorance of which kills countless ideas and splendid plans: that the moment one definitely commits oneself, then Providence moves too. All sorts of things occur to help one that would never otherwise have occurred. A whole stream of events issues from the decision, raising in one's favor all manner of unforeseen incidents and meetings and material assistance, which no man could have dreamed would have come his way.
Whatever you can do, or dream you can do, begin it. Boldness has genius, power, and magic in it. Begin it now."
Begin it now. 3,000 miles away I heard my Dad's booming voice. His absolute confidence that it could be done.
And so I leapt off the precipice, hurling myself to the unknown, but with the knowledge that around me and beneath me I was supported by those that love me, including my dear, sweet Dad.
**
Jalapeño Margaritas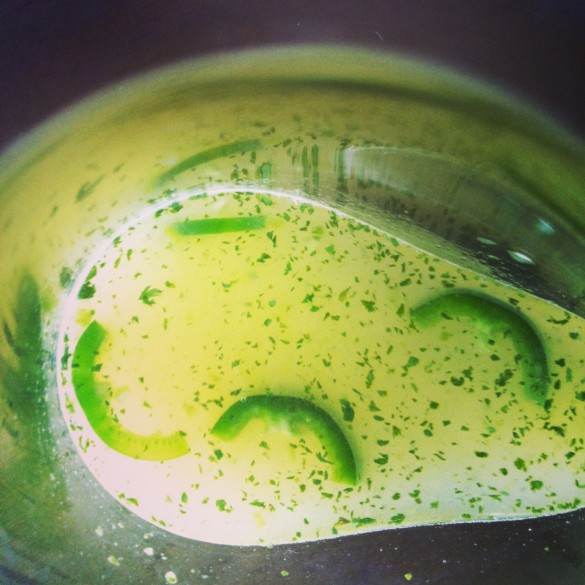 These utterly delicious Jalapeño Margaritas truthfully have nothing to do with my Dad (I don't know that I've ever seen him drink a margarita), but I whipped them up this afternoon for an impromptu Sunday Taco Cousins BBQ and they were so good I had to pass them on immediately.
The kick of the jalapeño balanced with the cilantro is a nearly addictive combination. Add to that, this recipe requires no simple syrup and a pitcher can be made in seconds in your blender and I have officially found my new summer love.
1 slice jalapeño (with seeds), plus more for garnish (seeded)

Handful cilantro
3/4 cup fresh lime juice
2 TB confectioners' sugar
2 cups tequila
1 cup orange liquer (I used Triple Sec)
Salt
In a blender pulse until finely chopped the jalapeño slice with seeds, cilantro, and lime juice.
Add the sugar, tequila, and orange liquer and pulse until combined.
Chill the pitcher of margaritas until ready to serve.
Serve in salted glasses on the rocks. Top with seltzer if you like.
Category Drinks, Entertaining, News | Tags:
---