25
Recipe: Make Ahead Breakfast Quiches with Kale and Brie
I'm getting excited. Nervous too. But mostly excited.
"Why?", you might ask.
The countdown is officially on for my debut on the Kitchen Circus. For those of you not familiar with what I've gotten myself into this time, Kitchen Circus, hosted by Top Chef Master Thierry Rautureau, is a reality cooking competition featuring three home cooks who will test their skills preparing one course of a three course meal at Seattle's renowned Rover's restaurant. My first filming will be on Monday at my assignment session where I get given the course I'll ultimately be making, and then my dinner is on November 20th.
I have five basic goals…not too many…and not asking too much if you ask me.
Win.
Don't Trip or Fall Over.
Don't be Too Perky.
Definitely be Perky Enough.
Win
I'll settle for 3 out of 5…after all, a girls got to have stretch goals.
To get ready for this event I've been thinking of what dishes will win the highest points for taste, presentation, and creativity. In the meantime though, life has been progressing in its everyday, not sexy, very ordinary, plain 'ol me, sort of way.
Which is where these on-the-go breakfast quiches come in. In addition to my proclivity to planning my meals out a week in advance, in the winter I particularly enjoy taking an afternoon and doing a pile of cooking for breakfasts and lunches during the week. These mini-quiches are the perfect way to start the day, high in protein, and relatively low in calories thanks to the kale. They last beautifully all week and are best if you can reheat them in a toaster oven for 10-15 minutes, until golden.
What would you make if you were cooking dinner for 45 people at a four-start restaurant?
Make Ahead Breakfast Quiches with Kale and Brie
Makes 18 quiches
Feel free to improvise with whatever is in your fridge that you want to use up. Diced ham and parmesan, broccoli and cheddar, or sausage and mushrooms would all be great combinations.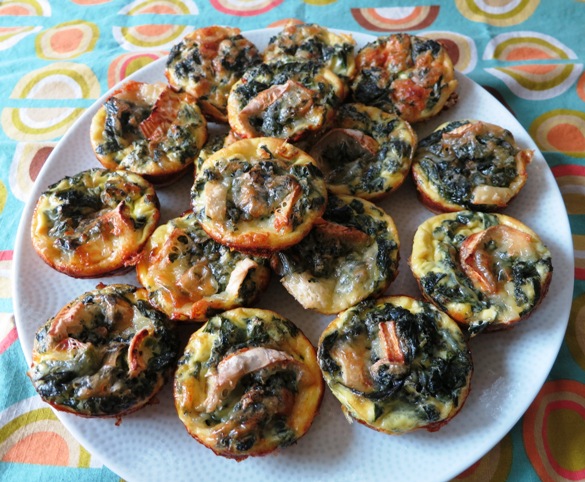 1 TB olive oil

1 bunch kale, thinly chopped

1/2 onion, diced

4 large eggs

1 1/2 cups 2% milk (you can use cream for something richer)

6 ounces brie, divided into 18 pieces, rind on or off, pending your preference

Salt and Pepper
1 sheet puff pastry, thawed
Pre-heat oven to 375 and grease non-stick regular size muffin tins.
In a skillet, heat the oil over medium heat, add the kale and onion, and cook until wilted and liquid released, stirring frequently about 6-8 minutes.
Meanwhile, beat the eggs and milk, and add a shake salt and pepper. Set aside.
On a lightly floured surface, roll the puff pastry out as thin as you can while still being able to move it.
Using a 3″ round cookie cutter (or juice glass if you don't have one), cut rounds from the pastry and gently press into greased muffin tins.

Divide the kale mixture among the muffin tins, add one piece of brie to each, and divide the egg mixture evenly among the tins.

Bake until egg is set, and pastry is golden about 25 minutes.
Allow to cool, remove from tins, and store in airtight container, 5-7 days.
Category Breakfasts, Kitchen Circus, Make ahead, News | Tags: brie, kale, kitchen circus, make ahead breakfast, quiches in muffin tins, weekday breakfast ideas
---