21
I'm running on fumes.
To admit that to myself is terrifying…because to admit it means to slow down enough to feel it. And to slow down enough to feel it means I might not be able to get up again and keep going.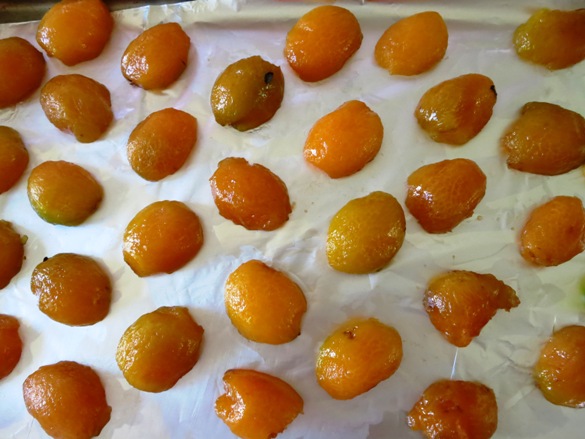 Keep going, keep going. Write this, cook that. Smile here, show up there. Try to take care of everything, of everyone. Can it be done? Of course it can.
Of course it can't.
This is the dance that we do. That I do. A constant motion, a constant moving. Always producing and never stepping down. This is the dance that I do. I've never known anything else.
And yet what if I didn't? If I decided not to be the always shiny penny, waiting to be picked up. What if I just quietly sat off-stage and watched what happened? Would I miss something? Or would I finally find something I've missed all along? I'm not sure which is scarier. Until then, I'll keep moving.
Roasted Plums with Candied Ginger in Shredded Phyllo Nests
Shredded phyllo, or Kataifi can be a little hard to find, but it can be easily ordered online and a box in the freezer will make countless easy, delicious, and beautiful appetizers or desserts.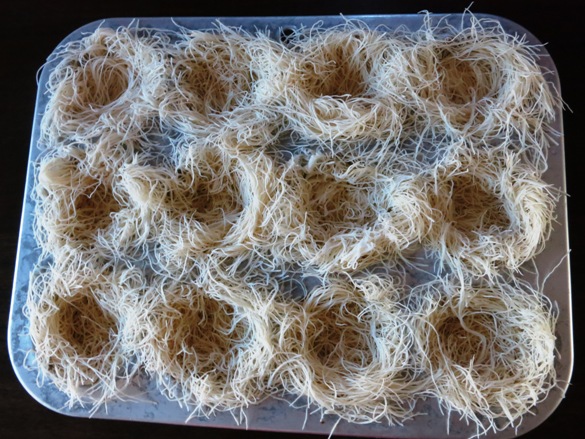 1 dozen plums, sliced in half, peeled, and pitted
2 TB crystallized ginger, finely chopped
1 TB Sugar
1 lb shredded phyllo (kataifi) thawed
4 TB butter, melted
Nutmeg
Whipped cream, for serving
Heat oven to 400. Place plums, cut side down, on a foil-lined cookie sheet at least 1″ apart and bake 10 – 15 minutes, or until tender and juices start to pool.
Meanwhile, in a smalls saucepan over medium heat, stir together the ginger, sugar, and 2 TB water and bring to a gentle simmer. Cook until the flavors come together and the liquid becomes a light syrup, about 5 minutes.
Meanwhile, in greased muffin tins, put a bundle of kataifi into each and make into a little nest. Brush with melted butter.
Add the plums to the nests, top with the candied ginger, and return to oven for 7-10 minutes, until nests are golden brown.

Allow to cool slightly and remove from pan. Serve with whipped cream and grated nutmeg.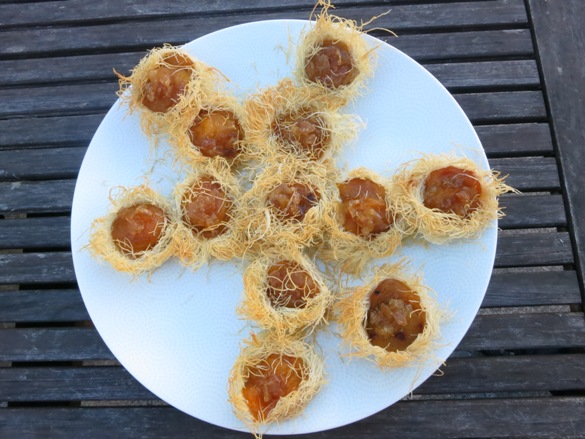 Category Desserts, News | Tags: easy thanksgiving desserts, kataifi, roasted plums, where to buy shredded phyllo
---