11
August Camping Weekend
Friday Dinner: Grilled Shrimp Packets with Rosemary and Garlic, served with Grilled Baguettes and Rhubarb Cocktails.
Saturday Morning: Bagels with Lox, Cream Cheese, Heirloom Tomatoes, Red Onions, Capers, and Lemon Wedges
Saturday Lunch: Mozzarella, Basil, Tomato Paninis
Saturday Dinner: Chicken Fajitas with Pinto Beans, Fresh Sliced Avocado, Pico de Gallo, and Peach Gin Fizz Cocktails.
Sunday Morning; Breakfast sausage, bacon, fireside biscuits, and hard-boiled eggs.
Week of March 25
Sunday Brunch: Breakfast Brioche with Prosciutto, Pesto, Feta, and Artichokes, served with Baked Eggs
Sunday Dinner: Beecher's Macaroni and Cheese!
Monday: Chicken Fajitas with onions, peppers, beans, and rice
Tuesday: Barn/Bowling/Leftovers
Wednesday: Slow-Cooked Sausage Ragu over Penne
Thursday: Salmon Burgers and Caesar Salad
Friday: Date Night!
Saturday: Palm Desert!!
Week of March 18th
Sunday: Beef Short Rib Ragu with sauteed mushrooms, popovers, and wilted watercress
Monday: Roasted Cauliflower and White Bean Soup with Aged White Cheddar
Tuesday: Grilled Paninis with Artichokes, Feta, Prosciutto, and Pesto
Wednesday: Gourmet Meatball Subs
Thursday: Dinner at Canlis!
Friday: Date Night
Saturday: Neighborhood BBQ with Burgers and Goat Cheese Stuffed Peppers
Week of March 5th
Sunday: Meatloaf, Truffled Mashed Potatoes, and Caesar Salad
Monday: Baked Salmon topped with dill and lemon medallions, herbed quinoa, and caesar salad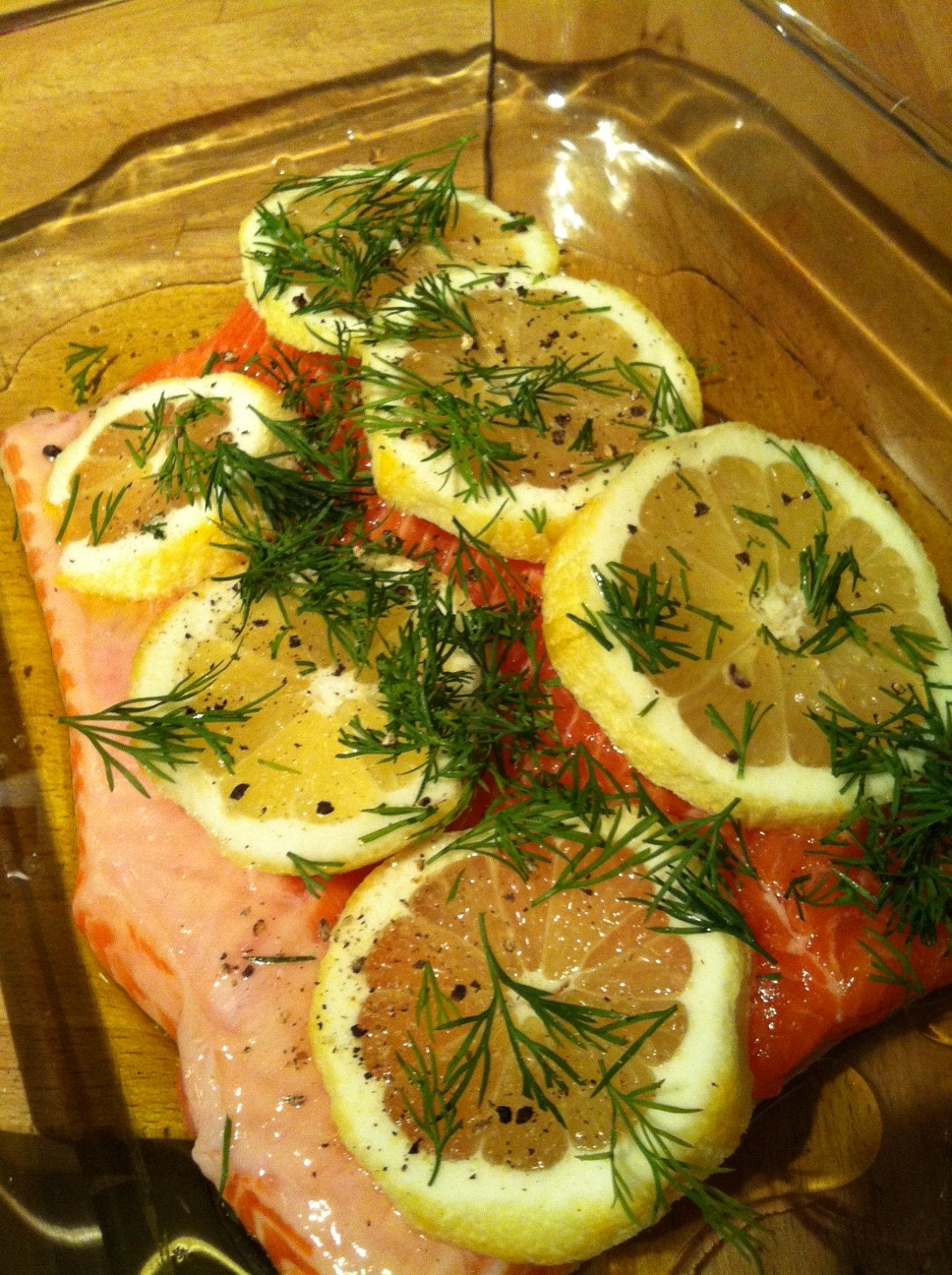 Tuesday: Reubens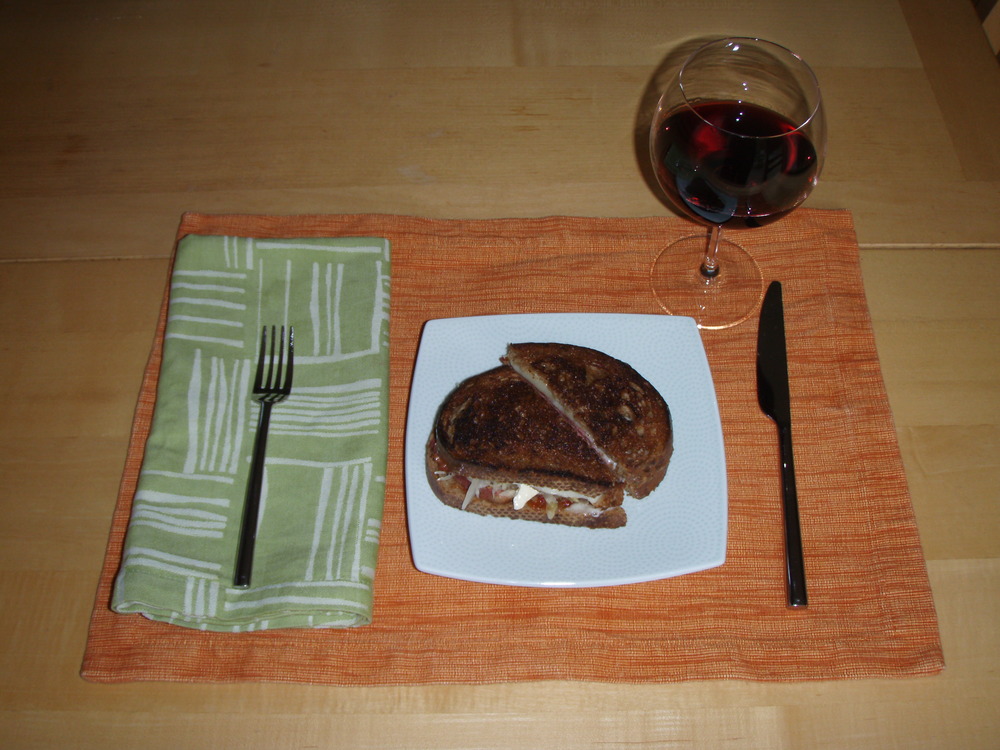 Wednesday: Wild Mushroom Souffle with grilled vegetables
Thursday: Grilled Prime Rib, Sauteed Mushrooms, and Roasted Potatoes
Friday: Fettucine Primavera
Saturday: Fish Taco Bonanza
Week of December 4th
Sunday: Milk Braised Pork Shoulder with roasted parsnips and turnips and a mixed green salad
Monday: Hamburgers with chanterelle mushrooms, avocado, bacon, and meunster
Tuesday: Grilled Salmon with Quinoa Cakes and Sauteed Chard
Wednesday: Mystery Dinner – Whatever in the fridge looks good
Thursday: Grilled Ham and Cheese
Friday: Book Club!  Spinach Feta Triangles and Crostini with Goat Cheese and Chutney to start, followed by Chicken Pot Pie and Winter Salad with Pomegranite and Blue Cheese, finished with chocolate mocha mouse
Week of September 25

(I didn't get to take pictures/do posts yet of any of these, but email me at shutupandcook@gmail.com if you want recipes for any!)
Sunday: Slow Cooked Lamb Shoulder Served with Potato Pancakes and Tomatoes Provencale
Monday: Chicken Breasts Baked with an Artichoke-Olive Sauce Medley, Served over Penne
Tuesday: Grilled Ham and Cheese Sandwiches with Granny Smith and Honey Mustard
Wednesday: Seared Sea Scallops, served over Mixed Field Greens tossed with Slow Roasted Tomatoes
Thursday: Book club at Ilas!
Friday: Double-date with The Clements: Filet of Beef with Herbed Cream Cheese Filling, Truffle Mashed Potatoes, Caesar Salad and Parmesan Dill Biscuits

Week of July 4
Saturday: Kale, Sausage, and Gruyere Frittata
Sunday: Dungeness Crab Cakes on a bed of mixed greens dressed with an emulsified lemon, anchovy dressing
Monday: Bucatini Pasta with garlic, anchovy, and olive oil tossed with radish bulbs and greens sauteed with green garlic and chives and finished with a fried egg
Tuesday: Fennel & Kohlrabi Gratin, served with NW Salmon Burgers
Week of April 16, 2011
Sunday: Hamburgers with sauteed onions and mushrooms, served with grilled fennel
Monday: Pea and Bacon Risotto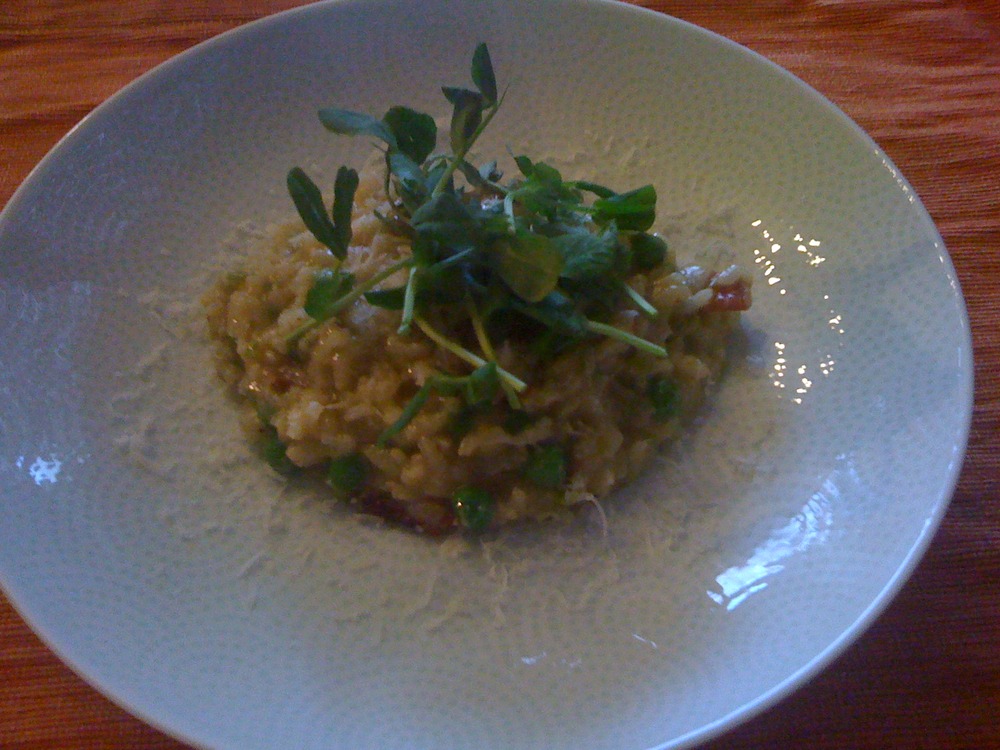 Tuesday: Happy Hour at Sazerac
Wednesday: Seattle Restaurant Week at The Corson Building
Thursday: Samoan Style Tuna and Cucumber Salad
Friday: Farewell Happy Hour with Henk
Saturday: Carbonara made with Hand-Farmed Organics' Farm Fresh Eggs, topped with Pork Belly
Week of February 27, 2011
Sunday: Oscar Party at Daniel & Julies
Monday: Spaghetti and Meatballs, served with Caesar Salad
Tuesday: Smoky Chicken Paprikash, served over brown rice
Wednesday: Shrimp and Tofu Yakisoba with mixed vegetables
Thursday: Happy Hour at Maximilien
Friday: Broccoli, White Bean, and Cheddar Soup, served with Skillet Cornbread
Saturday: Dinner at Lark
Week of  February 13, 2011
Sunday: Crabmeat Gratin with Mushrooms and Artichokes, served with Caesar Salad
Monday: Seared Black Cod served on Pommes Paillasson topped with Chanterelles
Tuesday: Pork Saltimboca with Marsala Sauce, served with baby asparagus and brown rice
Wednesday: Baked Penne with Chicken and Sun-Dried Tomatoes and Chop Salad
Thursday: Gingered Stir-Fry with Shrimp and Snow Peas
Friday: Dinner out at Quinn's Pub
Week of January 9, 2011
"Everything but the kitchen sink" – I just received the new Food & Wine magazine and I'm desperate to make everything in it. But…before I do I'm going to make myself do a weeks worth of meals using only things I've already got in my fridge, freezers, and cupboards. Here's what I came up with:

Sunday: Roast Turkey served with Baked Mushroom, Bresaolo, and Cheese Bread Stuffing, roasted brussel sprouts, mashed potatoes, and gravy.
Monday: Mama's Old-Fashioned Meatloaf, served with savory spoonbread, and mixed greens
Tuesday: Drinks at Re:Public
Wednesday: Sausage Rolls in Puff Pastry (I know this sounds gross..but the recipe looks great, so I'll report back)
Thursday: Bookclub at Ila's reading The Immortal Life of Henrietta Lacks
Friday: Dinner out at Luc

Week of January 2, 2011
Sunday: Artichoke Hearts, Prosciutto, and Fettucine
Monday: Tom Kah Kai Soup with Shrimp Dumplings to Start
Tuesday: Penne Pasta tossed with Vodka sauce, Spicy sausage, Olives, and Peas
Wednesday: Israeli Couscous with Currants and Almonds
Thursday: Chicken Yakisoba with Stir-Fried Vegetables
Friday: Pan-Seared Red Snapper with Wilted Greens and Grilled Roma Tomatoes
Saturday: Dinner out with Andy (aka The Scarecrow) before The Wizard of Oz!
Week of December 5
Sunday: Grilled Portobella Sandwiches with Roasted Red Peppers and Goat Cheese
Monday: Israeli Couscous with slow roasted tomatoes, raisins, and toasted almond slivers
Tuesday: Dinner by Maman!
Wednesday: Tossed Quinoa Salad with Scallops and Snow Peas
Thursday: Ham and Cheese Puff Tart to start followed by Burgers with a topping bar and green salad
Friday: Sushi
Saturday: Dinner on Vashon Island
Week of November 28

Sunday: Oven-Braised Pot Roast with a red-wine reduction sauce, Old Fashioned Macaroni & Cheese, Spinach Salad, and Brownies for Dessert
Monday: Organic Beef Hamburgers with Bacon Jam, Carmelized Onions, and Stilton Cheese (that's right…bacon jam!)
Tuesday: Chicken Yakisoba with Vegetable Medley
Wednesday: Scallop 'Po Boys with Spicy Mayo
Thursday: Champagne, Champagne, and more Champagne (aka, private shopping event at Nordstrom)
Friday: Sausage Stuffed Portabella Mushrooms
Week of October 10
Monday: Tha-Irish Beef Brisket Compliments of Matthew Rhodes
Tuesday: Duck Choo Chee served over brown rice
Wednesday: Dinner at Crow
Thursday: Potato Leek Soup and Grilled Chicken, Quinoa, and Mixed Greens
Friday: Seared Scallops served over a bed of mashed potatoes with a lime chipotle puree.
Week of October 2
Saturday: Crab cakes and curry mayo with wilted spinach salad
Sunday: Roast Chicken, Saffron Rissoto, and Artichokes with Wild Mushroom Pastries to Start
Monday: Joyous Ginger Mussels and Panzanella Salad
Tuesday: Old fashioned meatloaf, truffled mashed potatoes, and roasted veggies
Wednesday: Quinoa with cilantro pesto and grilled chicken
Thursday: Flautas by Matt
Friday: Dinner out at Anchovies and Olives
Week of September 19
Sunday: Dinner at Flying Squirrel Pizza
Monday: Easy Braised Short Ribs with Balsamic reduction and egg noodles
Tuesday: Black cod, fingerling potatoes, chive puree
Wednesday: Dinner at Tavolata
Thursday: Book Club! (Reading Super Sad True Love Story)
Week of July 18
Sunday: Smoked Salmon Deviled Eggs to start. Followed by Grilled Pork Tenderloin, Mixed Green Salad, and Skillet Cheddar Cornbread.
Monday: Greek bruschetta to start. Followed by steamers in dill, butter, and white wine, crusty bread, and corn on the cob.
Tuesday: Sesame noodles with seared tofu and spinach
Wednesday: Matt's Birthday Dinner at Jak's Grill
Thursday: Portobello Mushrooms Stuffed with Italian Sausage
Friday: Reuben Picnic on Lake Washington. Served with old fashioned potato chips and dill pickles.
Saturday: Matt's Birthday Camping Trip
Week of June 6
Sunday: Split roast chicken breast, served with savory bread pudding, and mixed green salad
Monday: Surf 'n Turf Caesar with grilled shrimp and grilled steak tips
Tuesday: Portobello Mushrooms Stuffed with Italian Sausage
Wednesday: Old fashioned hamburgers and Caesar salad
Week of February 28 (Fresh From The Farmers Market)
Thrilled that the warm weather is here and eagerly trying to push winter out the door this week's meal plan features lots of fresh veggies. Also, knowing that I've got a busy work week ahead I've planned meals that will provide delicious, easy, and affordable leftovers.
Sunday: Steak, Wilted Spinach Salad, Twice Baked Potatoes
Monday: Taking a cooking class at Blue Ribbon Cooking School: Mastering the Art of French Cooking
Tuesday: Chicken with artichokes and angel hair pasta
Wednesday: Pappardelle with asparagus and fava beans
Thursday: Autumn squash risotto with white truffle oil
Friday: Burgers with sauteed mushrooms, Grilled eggplant with fontina and arugula, and roasted beets with fennel oil
Saturday: Grilled swordfish, quinoa, artichokes, Roman style with garlic and mint
Week of February 7th (Barefoot in Paris: Easy French Food You Can Make at Home by Ina Garten)
Saturday: Boeuf Bourguignon
Sunday: Chicken with Morels and Brown Rice
Monday: Mussels in White Wine with Crusty Bread
Tuesday: Warm Mushroom Salad
Week of January 9th
Saturday: Good 'ol fashioned spaghetti and meatballs, garlic bread, and a fennel, citrus salad
Sunday: Creamy cauliflower and Gruyère soup, followed by seared scallops, sautéed spinach, and quinoa
Monday: Herb crusted salmon with roasted vegetable salad and goat cheese
Tuesday: Yakisoba and garlic bok choy
Wednesday: Chicken fajitas with spanish rice, beans, and avocado
Thursday: Grilled filet mignon, mashed garlic potatoes, and sautéed mushrooms.
Christmas Eve Dinner
First course: Potato Pancakes with Smoked Salmon, Caviar and Dill Cream, Croque Monsieur Bites, Tenderloin on a baguette toast with horseradish creme
Main course: Pan Roasted Chicken with citrus sauce, Risotto with bacon, herbs and almonds, Mixed greens with hearts of palm and a cilantro emulsion dressing, and Cheddar Popovers
Dessert: Lemon Bars and Bread Pudding
Week of December 2, 2009
Wednesday: Chicken Pot Pie with an Arugula, Carmelized pear, and Walnut Salad
Thursday: Beef Stroganoff with egg noodles and steamed broccoli
Friday: Artichoke and Gruyère Pizza, Pepperoni and Sliced Olive Pizza
Sunday: Mushroom Pot Roast and Mashed Potatoes
Monday: Seared Scallops, Sauteed Spinach and Garlic, Cilantro Rice
Wednesday: Spicy Italian Sausage and Red Sauce
Week of November 16, 2009
Monday: Damn Good Meat Loaf, Sauteed Mushrooms, Caesar Salad
Tuesday: Green Curry and Chicken served over a bed of coconut rice
Wednesday: Tuscan Bruschetta
Thursday: Gemelli Pasta tossed with olive oil, sun-dried tomatoes, and Gruyère cheese
Friday: Dinner out celebrating with Matt
Saturday: Baja Fish Tacos
Sunday: White Bean Chicken Chili & Crusty Bread
Week of November 9, 2009
Sunday: Elegant Fish Chowder, Caesar Salad, Crusty Baguette
Monday: Chicken with Artichokes and Angel Hair
Tuesday: Barn night
Wednesday: Family dinner
Thursday: Bruschetta
Week of June 26, 2009
Friday: Grilled Salmon Burgers served with a side salad of mixed greens, topped with blue cheese, apple, and roasted walnuts.
Saturday: Taco Bar Extravaganza
Sunday: Mushroom Bisque
Monday: Lobster ravioli tossed with Alfredo. Served with garlic bread and simple green salad.
Tuesday: Grilled Chicken, Quinoa, and sauteed spinach
Wednesday: Corn and crab chowder with bacon. Served with crusty bread.