9
It is admittedly cliché to write about the season's changing. But since Fall is officially here, and I am officially procrastinating writing the copy for my company's new corporate brochure, I thought I'd give in to the temptation and embrace it.
After a Summer in Seattle that was slow to start and ended beautifully but fleetingly, it seems that Fall has arrived. The mornings are cool and crisp, back to school aspirations abound anew, and I find myself doing something I haven't done in months.
Baking.
Perhaps it's an indication of lack of vision or creativity or something, but come Summer, all I want is grilled deliciousness, and tapas boards, and salads.  Come Fall and Winter, it's back to slow-braised meats with hearty red-wine sauces and pasta dishes that I pretend I have less often than I do. I also find myself baking this time of year, and making profound resolutions about all the exercise I'll do to offset it.
Part and parcel with our Fall traditions is our annual CiderFest where we invite friends and family over for a day of delicious food, good laughs, and more cider than you know what to do with. All told we had 30 people join us this year, ranging in age from 3 to well….older than 3. The kids did manual labor, the adults enjoyed cider and whiskey, and I enjoyed an excuse to spend a day cooking for those I love.
These carrot muffins are surprisingly delicious (little Wesley, age 3, ate one for each his year and was pushing for a fourth) and are a great way to use up all those extra carrots you've got in your garden. Moist and mildly spicy, they keep well and wrapped in foil will stay yummy for a few days.
Carrot Muffins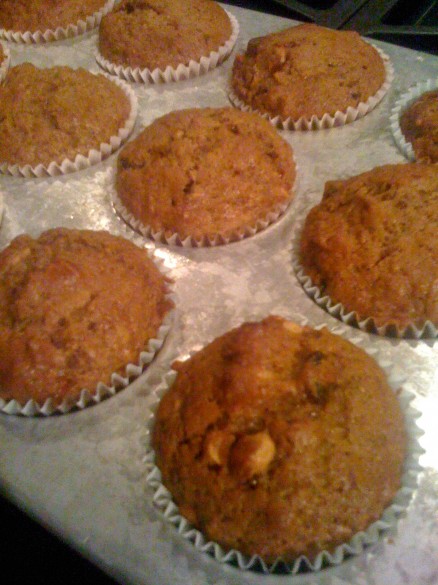 Makes 12
Position a rack in the center of the oven. Preheat the oven to 4oo degrees. Grease a standard 12-muffin pan or line with paper cups.
Whisk together thoroughly:
1 1/2 cups all purpose flour
1 tsp baking power
1 tsp baking soda
1 tsp ground cinnamon
3/4 tsp salt
1/2 tsp ground nutmeg
1/4 tsp ground cloves
1/4 tsp ground ginger
In a separate large bowl, whisk together:
2 large eggs
1/2 cup white sugar
1/4 cup brown sugar
Stir in and let stand for 10 minutes:
1 1/2 cups packed finely shredded carrots (the food processor makes this a breeze if you have the right attachment)
Stir in:
1/8 cup molasses
1/8 cup water
5 TB vegetable oil
1/2 cup coarsely chopped walnuts or pecans
1/2 cup raisins
Add the flour mixture and fold just until the dry ingredients are moistened. Do not overmix; the batter should not be smooth. Divide the batter among the muffin cups. Bake until a toothpick inserted comes out clean, 15-18 minutes. Let cool 2-3 before removing from the pan. Allow to cool fully on a rack and store in an airtight container…or better yet…enjoy right away with a delicious cup of cider or tea!
Category Breakfasts, Health Conscious, Lactose Free, Make ahead, Seasonal Cooking, Uncategorized, Vegetarian | Tags: carrot muffins, cider press, homemade cider
---