19
Recipe:15 Minute Meals: Scallop Fettuccine Tossed with Sun-Dried Tomatoes and Fried Capers
This past weekend was lazy. The kind of lazy that almost makes you more tired and gets into your bones, but is sometimes exactly what you need. Reading for hours, tucking in at nine o'clock, and considering laundry a triumph was what I was all about. Duke and Lou were oh-so-pleased to oblige.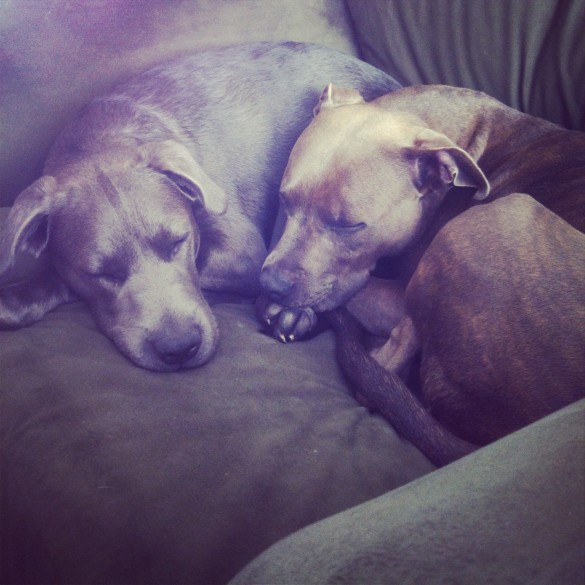 Come Monday though, all that changes. The week is filled with endless tasks, to-dos, demands, and delights. There's work, dog walks, friends, food columns, blog posts, restaurant reviews, and frantic attempts to get in some much-needed exercise to preserve both my derrière and my sanity.
Incidentally, my boxing instructor (yes, I box…it's a riot..and I love it..and someday I will be tough… and able to do a push up) scolded me the other day, "Erina…you're very precise. But you're also stiff. Very stiff. You have to feel it more. You have to loosen up."
I'm still working on that one in the ring, but in the kitchen it's one of my favorite ways to cook. This dish is the epitome of that, bringing together great ingredients and then getting out of the way. It takes only as long to make as the pasta does to boil and can be easily altered pending your desires and your pantry. The addition of the toasted panko simulates breaded scallops without all the trouble or the calories and the fried capers give each bite that little punch of "wow" you were looking for.
What's your favorite 15 minute meal?
Scallop Fettuccine Tossed with Sun-Dried Tomatoes and Fried Capers
Serves 2 generously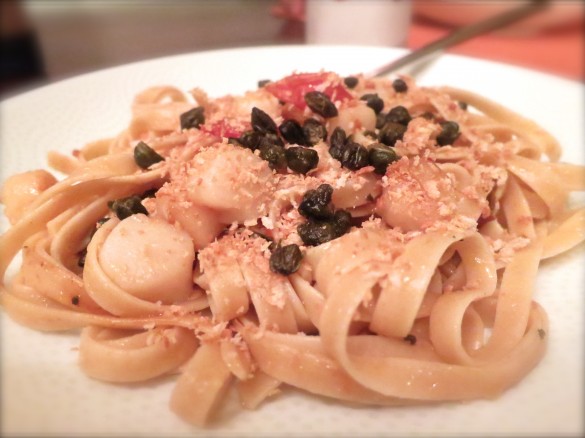 1/2 lb fettucine
1/3 cup panko bread crumbs
2 TB Olive oil + a glug
1/4 cup capers, drained
1/4 lb bay scallops
2 TB Butter
1/2 cup sun-dried tomatoes, packed in oil
Bring a pot of water to a boil and cook pasta according to instructions.
Meanwhile toast panko bread crumbs in a dry skillet until golden brown. Remove to bowl and set aside.
In the same skillet heat the 2 TB olive oil over medium high heat, and cook the capers until fried and crispy, occasionally tilting pan to mimic a deep-fryer, about 4 minutes. Remove with a slotted spoon and set on paper towels to drain.
Once the pasta is done, drain and toss with sun-dried tomatoes and corresponding oil + a glug of olive oil if it looks like it needs it.
Just as the pasta is done add the 2 TB butter to the same skillet and melt over high heat. Add the bay scallops and cook until beginning to caramelize, about 3-4 minutes, turning once.
Add the scallops and any remaining melted butter to the pasta and toss.
Top with fried capers and toasted bread crumbs and serve.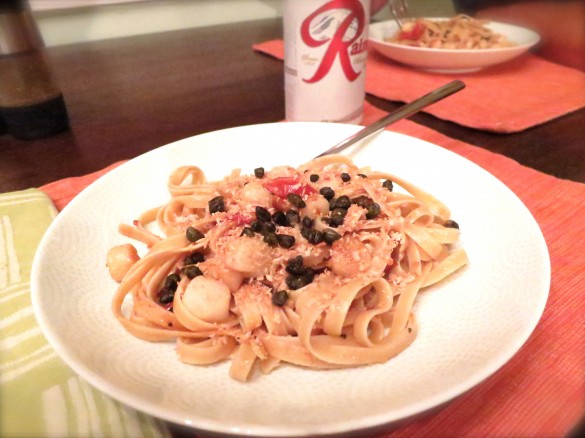 Category 15-Minute-Meals, Pasta, Seafood, Uncategorized | Tags: 15 minute gourmet meals, 15 minute meals, bay scallops, fast easy dinner ideas, Fried Capers, How to Fry Capers, sun dried tomatoes
---