12
If the old proverb, "For Want of a Nail" conveys the dismal consequences that can come from errant small decisions, Keren Brown's Foodportunity captures the inverse; the tremendous opportunity that can come from simply meeting the right person at the right time.
I was introduced to Keren on April 3, 2012 via Katherine Martinelli, a fellow alum and brilliantly talented food blogger currently residing in Israel. Katherine possesses all the attributes that could easily make you dislike her; smart, funny, beautiful, driven, and unendingly talented. Lucky for us she is also tremendously kind, generous, and gracious.
"Keren, I would like to introduce you to Erina, my wonderful friend who lives in Seattle and has a food blog, Shut Up and Cook," wrote Katherine, helping my naïve self who had made a declaration to try to really "make a go" of this "food thing" but didn't have the slightest idea of where to start.
"I think you two will hit it off famously," she continued.  "As Linda Richman of SNL's Coffee Talk used to say, 'Talk amongst yourselves' :-)"
And so with those 89 small words and one cheerful emoticon, the start of something, still admittedly in progress but also undeniably exiting, was begun.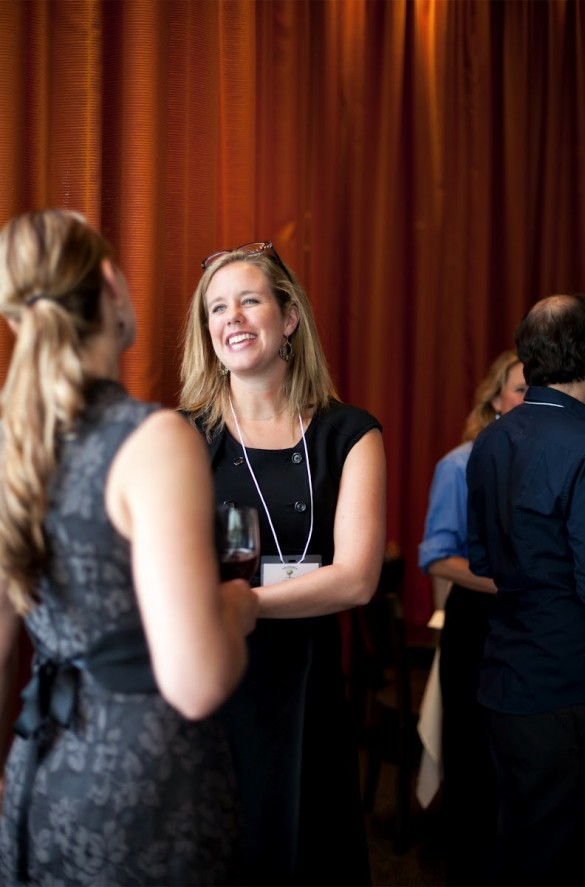 Keren, who possesses the rare gift to make meaningful connections and put even the most nervous at ease, invited me to a Sunday event after BlogHer Food, which was hosted in Seattle. Feeling as though I had been invited to the "cool" party after prom, I immediately began thinking about how I could possibly pay back this gift of kindness.
Invite Keren out for Happy Hour? With three children under three, something told me that wasn't going to be the most realistic possibility. Make her cookies? What was I thinking, the woman is a published food writer for god sakes. Send her a letter? Weird and creepy, even by my manners-obsessed East Coast self.
So when I somehow (still trying to figure this out) got onto the highly coveted list for the Chobani dinner at Seattle's elite Canlis and was invited to bring a date I thought "A ha! I have it! I bet Keren would love to go to Canlis. I mean who wouldn't."
Forgetting to play it cool in my eagerness I quickly emailed her to see if she would like to be my guest.
Now…anyone who has been on the food scene for more than five minutes knows that of course Keren was already invited to this…but there I was…standing on the proverbial porch, corsage in hand, looking foolish, if not slightly lovable.
Keren was, of course, very polite as she gently informed me she already had a seat at the table, the dinner was, of course, utterly spectacular, and the post BlogHer Sunday affair began the seedlings of connections that are already beginning to bear fruit.
I'm still trying to think of some way to pay Keren back, but perhaps that is what Foodportunity is all about. Reaching down to pull someone up behind you, to help them achieve the enviable, but possibly not impossible, dream of getting to do what you truly love the most.
Category Uncategorized | Tags: Foodportunity, Frantic Foodie, How to get into food blogging, Keren Brown
---