19
Recipe:Homemade Pizza Topped with Figs, Buffalo Mozzarella, and Truffle Honey
This past weekend was lovely. Not because of any spectacular event, but because of all the little things. The kind that are easy to miss, and so important not to. Lazy mornings in bed drinking tea and eating croutons.
Soaking up the sun at the park while the dogs run as though their hearts might burst. Dinners that creep into the wee hours with new friends. Rediscovering a song you loved back when life was simpler, but didn't seem as such.
Similar to how some create a sound track for their lives, I inevitably find myself creating meals. Breakfasts that comfort or inspire, lunches that speed along or stop to pause, dinners that celebrate simplicity or boast grandiosity.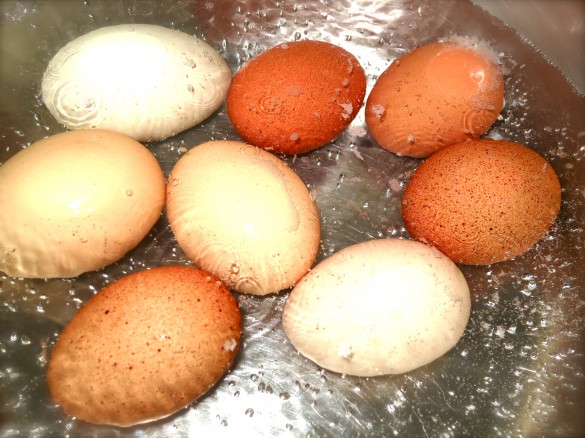 This pizza somehow manages to span nearly all of these. While making your own dough might seem intimidating at first, it is surprisingly easy and delivers a much more complex and affordable canvas than the store-bought variety. Easily enjoyed over a long dinner with lots of wine, it is also perfect for a bite on the go, and while there is something undeniably impressive about anything involving the word "truffle", the minimal number of quality ingredients makes this weeknight friendly as well.
What are the little moments that you most enjoy?
Artisan Pizza Topped with Figs, Buffalo Mozzarella, and Truffle Honey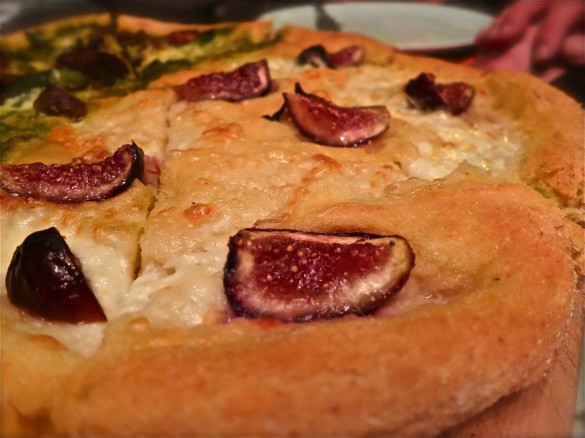 2, 1-lb loaves Olive Oil Dough (recipe follows)
Olive Oil for Brushing
1/2 lb sliced fresh buffalo mozzarella
1 cup figs, cut in half
Truffle Honey for Drizzlin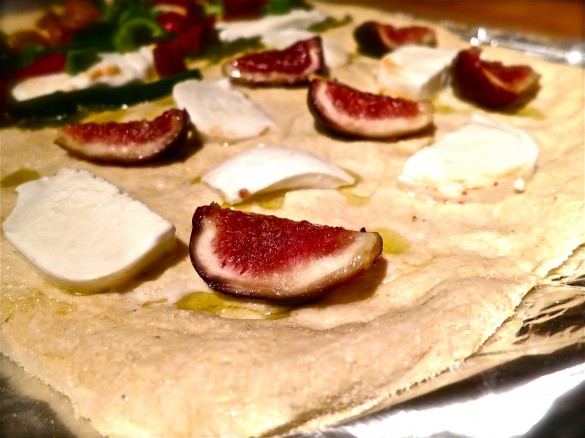 At least twenty minutes before baking, preheat the oven with a baking stone to 550 degrees or whatever is your oven's maximum.
Dust one of your loaves with flour and dust a work surface as well.
Flatten the dough with your hands to produce an 1/8-inch-thick round.
Place round onto a liberally cornmeal-covered pizza peel (note…if you don't have one pre-cooking the crust slightly is helpful)
Brush with olive oil, and top with half the mozzarella and half the figs.
Slide the pizza directly onto the stone (I find this scary AND I'm bad at it, so I usually try to coerce someone else into doing it). A number of back and forth shakes may be necessary.
Check for doneness after 8 – 10 minutes, rotating if browning unevenly. Continue cooking until light golden brown, up to another 5 minutes.
While pizza one is cooking, prep pizza two to minimize time sitting (and therefore STICKING) on the board.
Allow to cool slightly, drizzle with truffle honey, and serve.
Olive Oil Dough
From Artisan Bread in Five Minutes a Day

Makes four 1-pound loaves. Recipe easily halved or doubled.
2 and 3/4 cups lukewarm water
2 packets granulated yeast
1 1/2 tablespoons Kosher salt
1 tablespoon sugar
1/4 cup extra virgin olive oil
6 1/2 cups unbleached all-purpose flour
Mix the yeast, salt, sugar, and olive oil with the water in a heavy-duty stand mixer if you have one.
Mix in the flour until well incorporated.
Cover (not airtight), and allow to rest at room temperature until dough rises and collapses (or flattens on top), approximately 2 hours.
You can use it immediately after that, although it's easier to handle when cold. Refrigerate in a lidded (not airtight) container and use over the next 12 days.
Category Entertaining, Mains, Uncategorized, Vegetarian | Tags: buffalo mozzarella, easy homemade pizza dough, fig, homemade pizza, lazy mornings, mozzarella, olive oil pizza dough, perfect sunday, pizza
---