4
You've probably noticed that things have been a little quiet at Shut Up & Cook this past month. But I have a good excuse…I've had royalty in town. And I'm not talking Will and Kate.
No…I'm talking about His Royal Highness…the Duke of Tacoma. Or just Duke for short.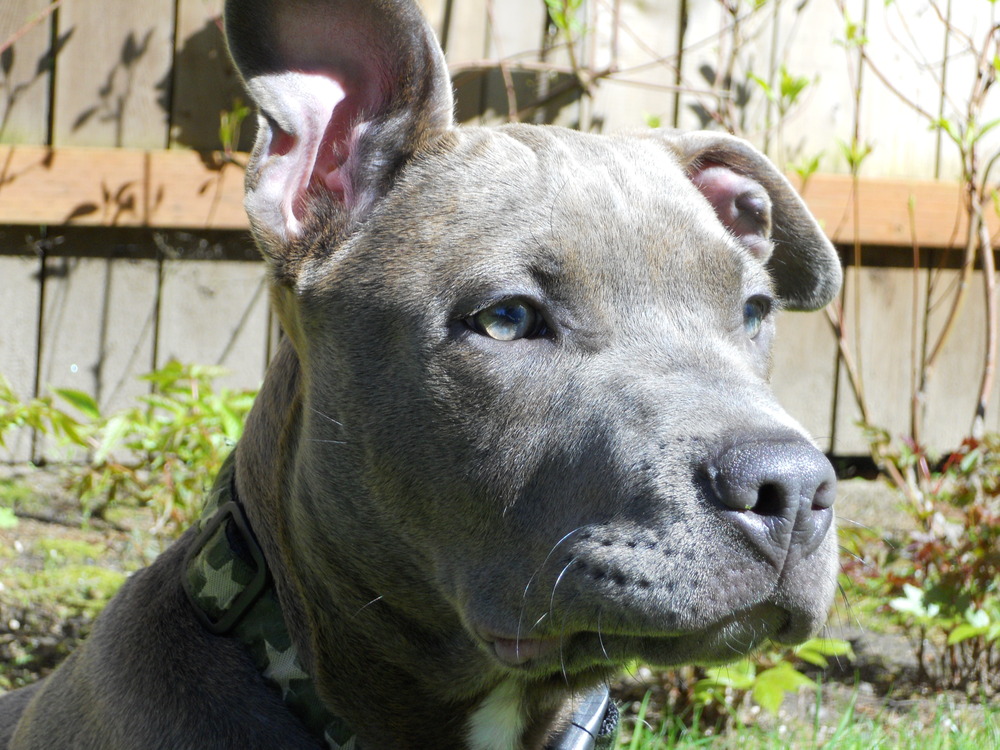 Last September, we had to put our best friend Lucky the Dog down. He left a hole in our lives that Matt and I did our best to ignore with over-rationalizing and good 'ol fashioned New England denial, but the truth was our little family was missing something. So this Spring we (okay I) started to make lists. "Pros and Cons of Getting a Puppy". The cons list is long and easy…the pros list is longer and easier. Enter Mr. Duke. He was abandoned on the streets outside Tacoma, near death with parvo and severely stunted by rickets. Turned into the Tacoma Humane Society, they got him healthier and then given his breed (the ferocious Pit bull) gave him a short sentence to euthanasia unless someone adopted him. Enter, The Pit Stop, a terrific small rescue group that was started to be a voice and a safe haven for the very misunderstood, neglected and abused American Pit Bull dog breed.
Duke was a lucky one. He was picked up by a great rescue group and then placed in an amazing foster home that understands the breed and delivered to us a 4 1/2 month old dog that was already more trained than most people's children.
The last month has been one of such fun and discovery. Onca is a brilliant older sister and I am an undeniably overly proud (read bragging and obnoxious) Mom. Duke has proven to be a sterling representation of the breed: friendly, smart, funny, inquisitive, utterly devoted, and goofy. We do have to deal with some people picking up their little dogs to walk by us at the park due to their ignorance, but it's a small price to pay. I wouldn't want a chihuahua anyway.
And such is my long-winded excuse of why I haven't been cooking. I've been too busy gushing about Duke to anyone who will listen. But this sunny Fourth of July weekend I decided to get back into it. First step…the ultimate summer salad: Mozzarella, Basil, Tomato with Olive Oil and Balsamic. This is so easy it hardly requires a recipe, but it's guaranteed to impress.
Serve it when you've got His Royal Highness in town…just don't let him beg.
Summer Caprese Salad
Serves 4-6 as a side dish.  Extra yummy paired with grilled crostini and Prosecco.

2 vine-ripened tomatoes
8 oz fresh mozzarella
1 bundle fresh basil
2 TB Good Olive Oil (the best you can afford)
1 TB Balsamic
Coarse Salt and Pepper to taste
Slice the tomatoes and set aside.
Slice the mozzarella in circles and then cut in half so that they resemble half moons
Thinly slice the basil.
Alternating back and forth, put the tomatoes and mozzarella in a round on a plate.

Sprinkle with the fine basil and then coarsely grate salt and pepper.
Drizzle with olive oil and sprinkle with balsamic.
Allow to come to room temperature before serving so the flavors are really bright and fresh.
Category 15-Minute-Meals, Entertaining, Make ahead, Salads, Uncategorized, Vegetarian | Tags: american pit bull terrier, basil, breed bias, caprese salad, mozzarella, pit bull rescue, seattle dog rescue, The Pit Stop, tomato, Will and Kate
---