4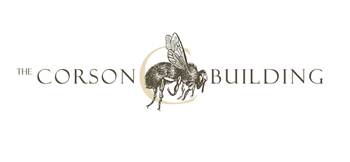 "So…what do you say we reserve our Zipcar for an extra hour before we head back to my parents?", he crooned to his date smoothly hoping to distract from his mediocre good looks and advanced receding hairline.
His date, (who was admittedly much better looking, but whose vapid expression and refusal to actually eat any of the food in front of her immediately made me skeptical), declared "Totally!", whipped out her iPhone with the urgency of someone grabbing their EpiPen and immediately started pecking away at the ZipCar ap.
This couple, smooshed next to us at The Corson Building's communal dining table, was the epitome of NW trust fund babies, who are too ecofriendly to own their own cars, and too liberated to own a house, but who aren't too proud to still be living with their parents in their 30s and 40s.
Now…you're probably thinking that I'm being overly judgemental and sarcastic (it has been known to happen ) and are curious how it is that I know so much about these people. Well…for one…The Corson Building, which has dominated the Seattle restaurant scene with rave reviews and a cult like status, is a delightfully small space with large communal tables. I actually like dining like this, except for the rare instance where you're seated next to Gucci-wearing, pseudo hippy, faux artists who make out at the table and sort of push their food around exclaiming about its' "depth", "energy", and general "fucking awesomeness".
To be fair, I think our dining neighbors may have given the evening a more sour tone than was deserved but for as excited and ecstatic as I was to try The Corson Building I was sadly disappointed. It's good, not great. But for the price and exclusivity there are many better restaurants in Seattle (think Anchovies and Olives or La Medusa).
I started with the smoked and marinated trout and mussels with raw beets, crème fraiche, and walnut oil. Unfortunately, all those powerful flavors spent the whole time shouting over each other, rather than complimenting, resulting in a surprisingly bland, B- appetizer at best.
On I moved to the One half of a young chicken cooked in the fireplace with artichokes, and a sauce of livers & garden sorrel. This was yummy, but was prepared and served in what I can only describe as an overly deliberate peasant fare fashion, as though to shout to the world…"This isn't a fancy restaurant! It's not snobby! It's just everyman's grub!" Everyman's grub at $50+ per person easy.
The dessert however was delicious; Kurt Timmermeister's triple cream with squash conserve and cookies. The combination of the sweet and savory was a delightful end to an entertaining, if not wholly satisfying dinner.
Enjoying a girl's weekend to myself I wanted to create something similar, but with a bit more of a nod to Summer's arrival. The result?
A traditional shortbread cookie, topped with a wedge of Saint Andre's French cow's milk cheese, and finished with a rhubarb compote. Serve this as the perfect end to a dinner party, with a crisp, white wine.
Now THAT is something worth returning the Zipcar late for.
Shortbread topped with a Wedge of Triple Cream, Finished with a Rhubarb Compote
Makes 16, 2″ morsels of deliciousness
Rhubarb Compote
Makes about 2 cups, so you'll have lots extra but it's delicious used on ice cream, as a marinade for chicken, or served with crackers and cheese.
1 pound rhubarb, stalks only, cut into 1/2-inch pieces
3/4 cup sugar
1 vanilla bean, split lengthwise, seeds scraped
1 tablespoon fresh lemon juice
1. Combine all of the ingredients in a medium saucepan and bring to a boil over moderately high heat. Reduce the heat to moderately low and simmer for 10-15 minutes or until rhubarb is very tender and resembling a rustic jam. Remove the vanilla bean and allow to cool completely. Can be made ahead of time and refrigerated for up to four days.
Shortbread
3/4 cup butter, softened
1/4 cup white sugar
3 1/2 tablespoons sifted confectioners' sugar
1 tablespoon finely chopped fresh mint leaves
1 tsp orange zest
1-1/4 cups all-purpose flour, sifted
1/4 cup cornstarch
1/2 teaspoon salt
1.In a mixer, preferably your Kitchen Aid, combine the butter and sugars until light and fluffy. Mix in the mint and orange zest, and gently blend. Add the flour, cornstarch, and salt, and mix until well blended and forming a dough. Give the dough a knead or two to fully assemble into a ball and wrap in plastic wrap. Flatten to about 2 inches thick. Refrigerate until firm, about 30 minutes.
2.Preheat the oven to 325 degrees. Press the dough into a lightly greased 8×8 baking dish, making as flat and even as possible. Prick in a decorative pattern with a fork.
Bake for 18 to 20 minutes in the preheated oven, just until dough begins to brown at the edges. Cool for 2 minutes and then cut into squares. Once cool completely remove from pan and set on serving platter.
Assembly
Assemble the cooled short breads on a plate, allowing one to two inches of room in between each. Top each with a slightly smaller piece of triple creme cheese. HINT: In order to get a really clean cut of the cheese, freeze it for 15-20 minutes and use a knife that has been run under hot water. If you follow this technique you'll just want to allow enough time for the cheese to come to room temperature after it's been cut and assembled; about 30 minutes. Top with dollop of the rhubarb compote. Enjoy!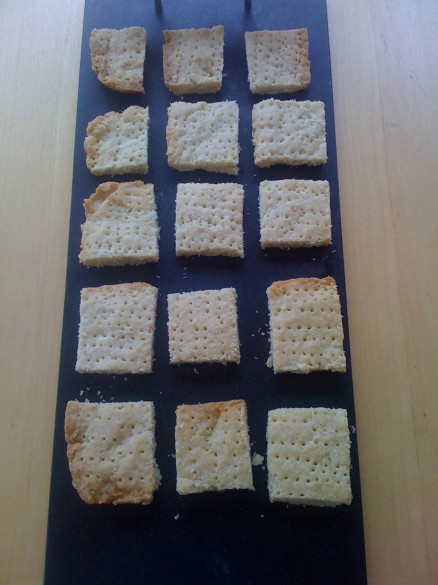 Category Desserts, Restaurant Reviews, Uncategorized | Tags: compote, how to cut triple creme cheese, rhubarb, Seattle Restaurant Week, shortbread, strawberry, The Corson Building
---