23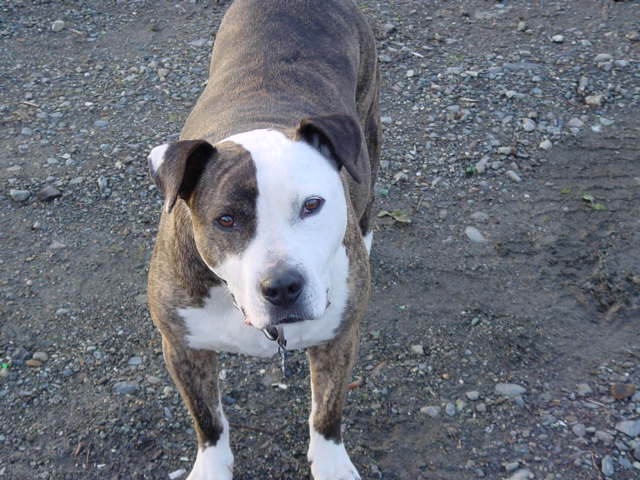 Lucky The Dog, 2/14/1999 – 9/27/2010
I have been partaking quite a bit lately in the three 'Ws': Walking, weeping, and wine. Not someone who I would normally categorize as a crier (my cousin actually confessed to me the other day that while she's of course saddened by what I'm going through right now, it has made me less of an "ice queen"), these past few weeks I have wept. The kind of tears that you try to hold back that seem to break down the walls and come out your teeth. I have wept for many reasons (the first year of marriage is so much harder than anyone tells you, the economy sucks, I recently discovered that I think I've grown a pair of love handles) but most palpably, most defensibly, I have wept for my dog.
[Caveat: To those new readers of Shut Up And Cook…first of all, welcome! I'm glad you're here. Secondly, I promise I'm not usually this mopey, sappy, and long-winded. But for now…I am, so bear with me.]
To those who knew him, Lucky The Dog was a hell of a guy. I know that everyone thinks their dogs (and kids for that matter) are special and unlike any before them, but in the case of Lucky he really was. Won in a card game in Roxbury in 1999, he soon became the fixture of my husband's life, and then mine. We lived in NY together, we traveled all over, and then in 2005 we moved to Seattle. A most dapper fellow, he could woo the biggest dog critic, with his quiet, self-assured, and utterly loving ways. When people saw a scary Pitbull walking down the street they would pick up their little dogs and scowl at us. What they didn't know was that later that night our friend's two year-old would be feeding him goldfish one by one, out of her tiny little palm. There was not a mean bone in Lucky's body, but more than that, was his ability to intuit that around him. And, he was a damn champion snuggler.
These past few weeks we have watched in disbelief as his body failed him. His mind, still present, but increasingly fatigued, was still there, which was why the decision to put him to sleep was so excruciating. We agonized over whether we were doing the right thing, or not, and just when we were convinced we were, he would look at you in his entirely Lucky Dog way, as if to say, "what the hell is all this crying about??".
I've always been a huge proponent of the miracle of endorphins, so as things got worse at home, as Lucky struggled more and more to climb to the stairs, or go for a ride, I found myself out walking. Walking in the rain, walking in the dark, walking with friends and family, and walking alone. I would walk, I would weep, and I would come home and open a bottle of wine. (Incidentally, I've always wished I could be one of those people who magically loses 5 or 10 lbs when grieving, but apparently, my genes don't work like that. Curses.)
This past Thursday, at 3a in the morning, Lucky tried to climb the 1 foot into our bed and crashed over. An unbelievably stoic dog who could hardly stand any sort of embarrassment (think plaid fleece jackets for NY winters), he now was relegated to being carried around. After we lifted him into bed, my husband and I lay there next to each other not talking. Though no one said it, I think we both knew that the upcoming weekend would be Lucky's last.
We made the decision that the vet should come Tuesday, and then spent the rest of the weekend in a sort of "dead man walking" induced fog; trying to be positive around Lucky, delivering Egg McMuffins to him in bed, walking, weeping, drinking wine, and trying to prepare ourselves for the unpreparable. In sitting down and trying to do a meal plan, I found that I was literally unable because I could only think of Sunday as two days before Tuesday, Wednesday as the day after…
Monday morning came and my husband emailed me at work to say that he thought it was time. Lucky wasn't getting any better, and we owed him too much to let him suffer unnecessarily. I somehow managed to keep it together at work until 2p when I left, put on my big sunglasses, burst into tears, and began the drive home cursing every light and every bad driver that delayed me from spending one more minute with my Lucky.
I will spare you the agonizing details of our goodbye, the vet's arrival, Lucky's departure, and Onca's confusion, but suffice it to say that it was peaceful. And kind. And loving. And truly awful. When it was over we loaded up into the Landcruiser, and we drove up into the mountains, to a spot that Lucky had enjoyed and loved for years. Digging a hole and bidding our sweet friend goodbye, we wished for him to come back, and made vows to get a 110 year tortoise next time as pet. We came out of the mountains as the stars were appearing, and returned home to our seemingly empty, off-balance house. Tumbling into bed with tired hearts and tired bodies, we slept.
Awaking this morning to a king size bed seemingly too large and too empty, Matt and I lay there next to each other, again silent, as though trying to summon the urge to get up and put one foot in front of the other. Just when I wondered if it would be possible, I heard that tell-tale sound…of Onca throwing up. Leaping out of bed, stubbing my tow, and dashing downstairs scantily clad I found Onca heaving up the rawhide bone (which she is not allowed to have because they make her throw up) that we had gotten for Lucky on his last day and he had uncharacteristically refused. And in that moment, because it was the only thing left I felt I could do, I laughed. And then I thanked Onca for reminding me just how much there still is in this little world of mine.
An avid proponent of the merit of comfort food, I just didn't have it in me tonight. I did however, have a Costco size bag of artichokes (they're surprisingly delicious and affordable there) and the fixings for the ultimate sandwich, The Reuben. Popping open a bottle of red wine, I quickly started the artichokes (which take FOREVER in my impatient opinion), assembled the reubens, and sat down alone to an appropriately sorrow filled dinner. As my mama says, "trust the process".

Grilled Reubens and Steamed Artichokes for One
Serve when you need to feel pampered a bit, but don't have the energy for lots of dishes or fussy prep work.
Artichokes: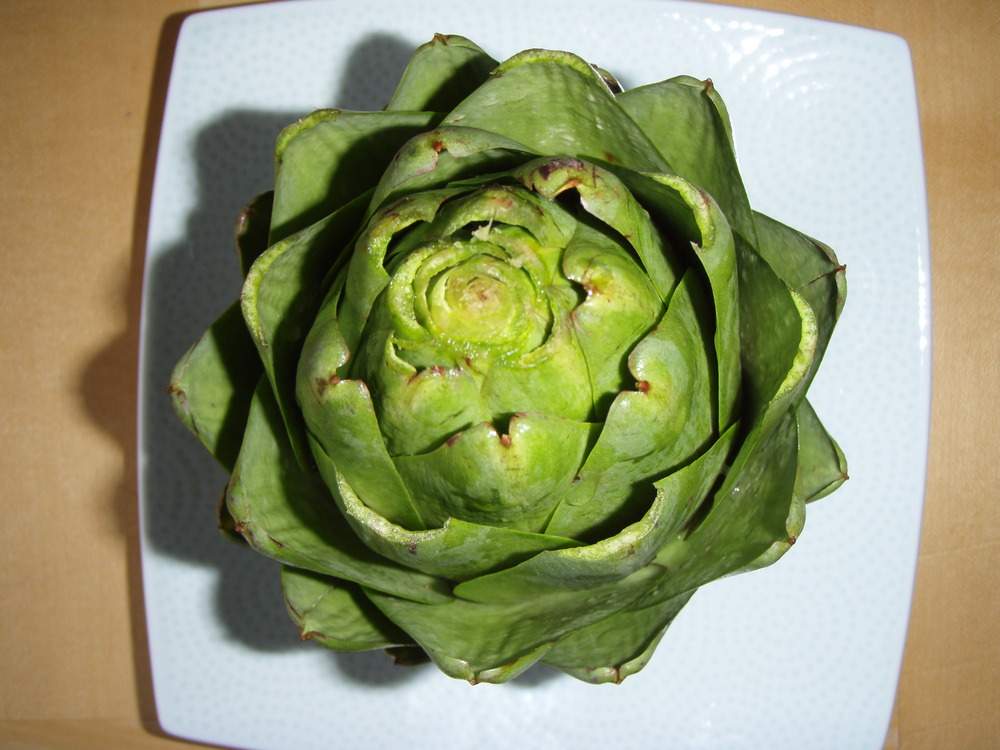 Rinse the artichokes well to remove any lingering dirt.
Trim the stem to about 2 inches.
Trim the top of the artichoke to remove any particularly prickly leaves. N.B – I'd never actually done this because I thought it seemed silly and unnecessary, but I did tonight and it actually does make eating it more pleasant.
Fill a medium sized pot with about 1/3 water and set in a steamer so about 1 inch of water is just covering it.
Add the prepared artichoke, bring to a boil, reduce to a simmer, and cook until tender. These artichokes took about 45, although larger ones can take up to an hour. Make sure you have enough water in the pot so that it doesn't boil off.
Grilled Reubens:
2 slices dark rye bread of good, hearty quality
2 TB butter
1/4 lb corned beef (I prefer to make my own, but you can get it sliced at the butcher…go for Boars Head, it's worth it)
2 slices cheese, flavor of your choosing (Swiss is traditional, but I prefer Fontina…or if you're lactose intolerant, that weird soy crap)
1/4 cup sauerkraut, slightly drained, I like Bubbies
1-2 TB Russian or Thousands Island Dressing
1 TB mayonnaise (because yes, everything IS better with mayo)
Butter one side of each slice of bread. Put one slice, butter side down, in a cast iron skillet, and add the corned beef, cheese, and Russian Dressing. Top with second slice of bread.
One a medium to low flame, cook until golden brown, and cheese melted.
Remove from heat, remove the top slice of bread, add the mayo and saurerkraut, return top slice, flip over (so it doesn't get soggy, a huge reuben pet peeve) and serve.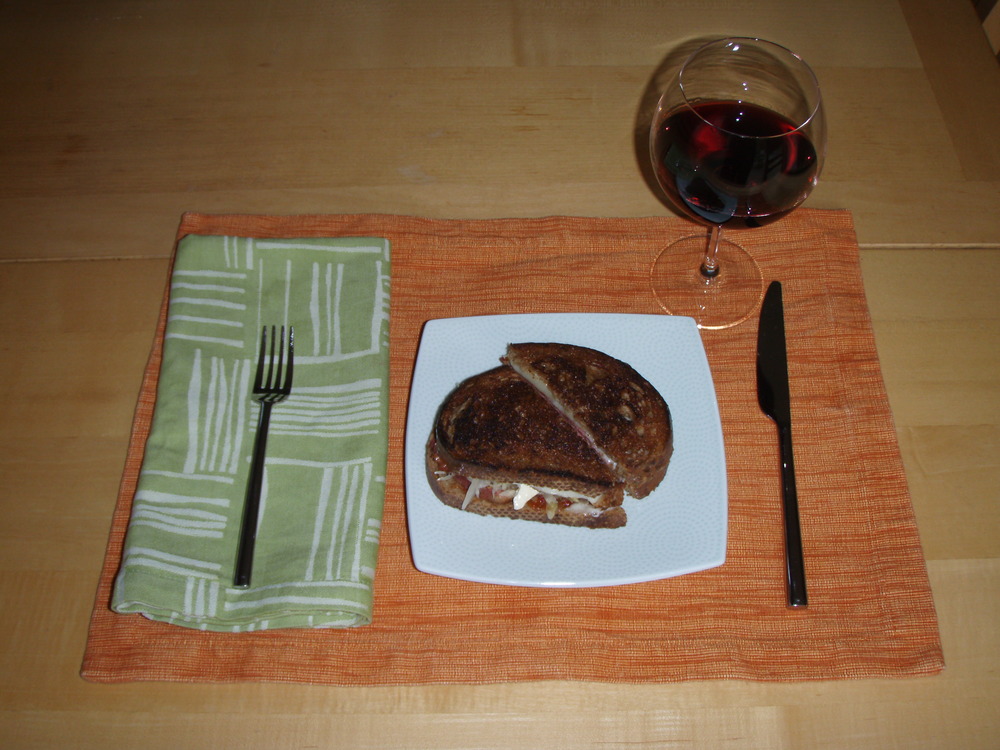 Category 15-Minute-Meals, Comfort Foods, Lactose Free, Sandwiches, Uncategorized | Tags: american staffordshire terrier, artichokes, corned beef, dinner for one, fontina, grilled reubens, how to know when to put down your dog, how to steam artichokes, pitbull, thousand islands
---