15
A dear friend, and fellow blogger, recently described her great accomplishments of the past month as:
"I did not cry in the past four days even though sometimes I was really drunk."
"I went to the beach everyday in August and did not get burned."
"Yesterday, at the grocery store there were free samples of cake and I did not eat one."
Because of how my life has been going, I've been measuring my triumphs in a similar scale. Take today for instance:
Upon waking, my hair only moderately resembled a rogue bonsai.
I did not once sign one of the 200 work emails I fast and furiously sent out with 'xoxo'. (this is a deep seeded fear of mine, even though it has only happened once).
I successfully managed to wear one of those chunky chic necklaces that are so popular right now without anyone openly mistaking me for a kindergarten teacher.
Yes…today was a good day.
The real triumph of the day however, undoubtedly, and per usual, came in the kitchen.
My tomato plants, having been seriously stunted by our lame summer, finally kicked into gear and produced a whole slew of beautiful, tomatoes. Add to that a bit of stale bread in my freezer, and a shameless desire to recreate the oh-so-delicious panzanella salad I recently had at Rowhouse and we were in action.
This is very easy and quick to make, and is beautiful when presented. A perfect way to use the last of summer's bounty.
Panzanella Salad with Kalamata Olives, Garbanzo Beans, and Basil
Serves 4-6
1/2 pound (about 5 cups)  stale bread, cut into 3/4-inch cubes.  You want the bread to be substantial; think french bread or sour dough.
1 lb ripe tomatoes (about 3-4 cups), cut into 3/4 inch pieces
1/2 cup diced red onion
1 can garbanzo beans
1/4 cup kalamata olives
1/2 cup fresh mozzarella (optional)
1/2 cup fresh basil, sliced
1/2 cup olive oil, + 3-4 TB
3 TB Balsamic
1 tsp salt
1/2 tsp pepper
1. In a large bowl, toss the bread with 3 TB olive oil. Add the remaining 1 TB to a cast iron skillet, bring to medium heat, and brown the bread as if making croutons. Remove from heat and set aside.
2. In the same serving bowl, add the olive oil, balsamic, salt, and pepper and whisk to make a dressing.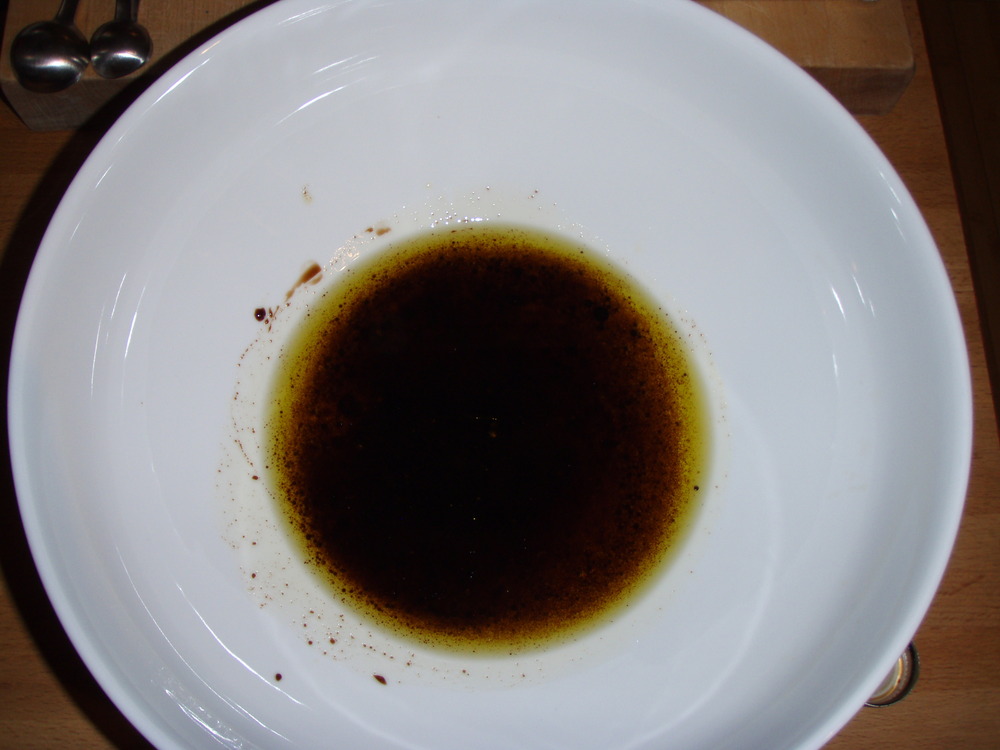 3. Add to the bowl the tomatoes, the garbanzo, the red onions, the kalamata olives, the mozzarella (optional), the basil, and the bread.
4. Toss to thoroughly combine.
5. Let stand at room temperature, stirring occasionally, for 5-10 minutes, or until the bread has absorbed the tomato juices without losing its texture.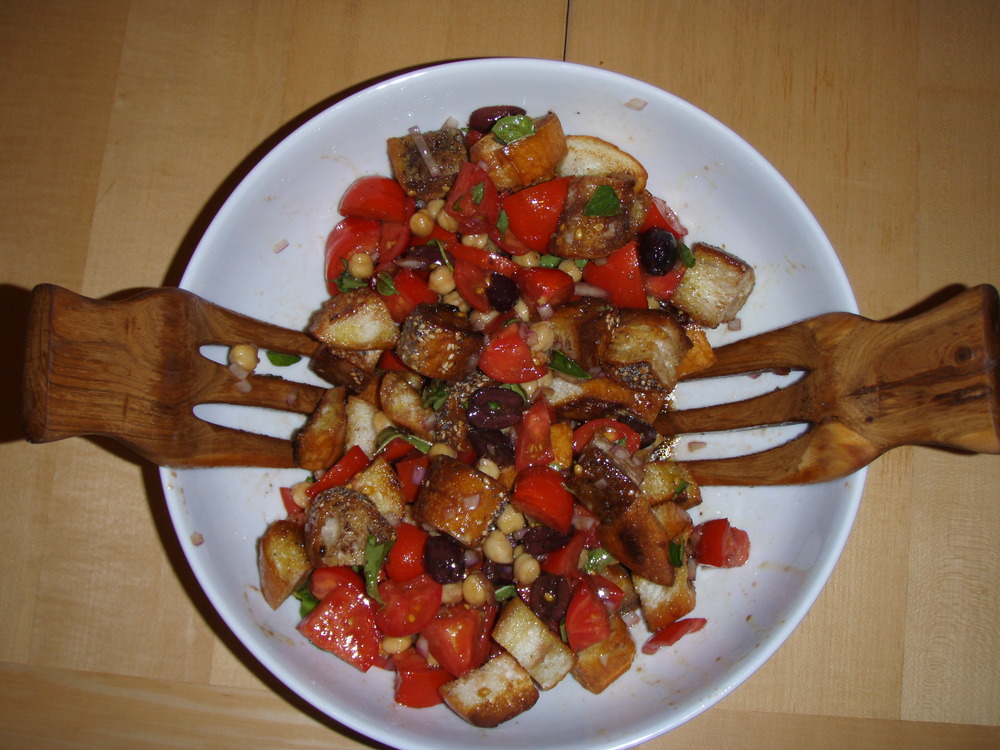 Enjoy!
Category Lactose Free, Salads, Uncategorized, Vegetarian | Tags: balsamic, basil, bread salad, garbanzo beans, how to use stale bread, kalamata olives, mozzarella, olive oil, Panzanella, red onion, tomatoes
---