2
(A guest blog post by Matthew Rhodes)
As many Irish folks can attest, there's nothing quite like a good curry after a few pints of Guinness. This flavor combination got me to thinking about other ways to mingle curry and stout and… eureka! ThaIrish beef brisket! (For all of you who are now tsk-tsk'ing my lame wordplay due to the fact that "a curry" in Ireland generally refers to an Indian curry, well, nyah-nyah. This sounded better to me.)
Summer is over. The wood has been stacked, the rains have begun, and it's been seven wonderful years since I fist met my lovely wife in a hot tub in Vermont… so a roast seemed appropriate. Maybe it was the sound of the fall breezes in the giant tree just beyond our back yard, which we likely could have heard all summer had there not been an ice-cream truck parked in front of our house every afternoon and into the night. Maybe the roast in the bath of beer reminded me of that hot tub all those years ago.
Hard to say really.
Perusing the fridge before my trip to the ghetto grocery store and butcher I took stock of the available produce. There remained a bunch of bok choy from another meal that was still in fine shape. Celery is commonly found with roasts, and bok choy is a lot like celery when it's coarsely chopped. I was on to something. Many roasts call for tomato paste to be added near the end as well, and as it happened, we had some red curry paste!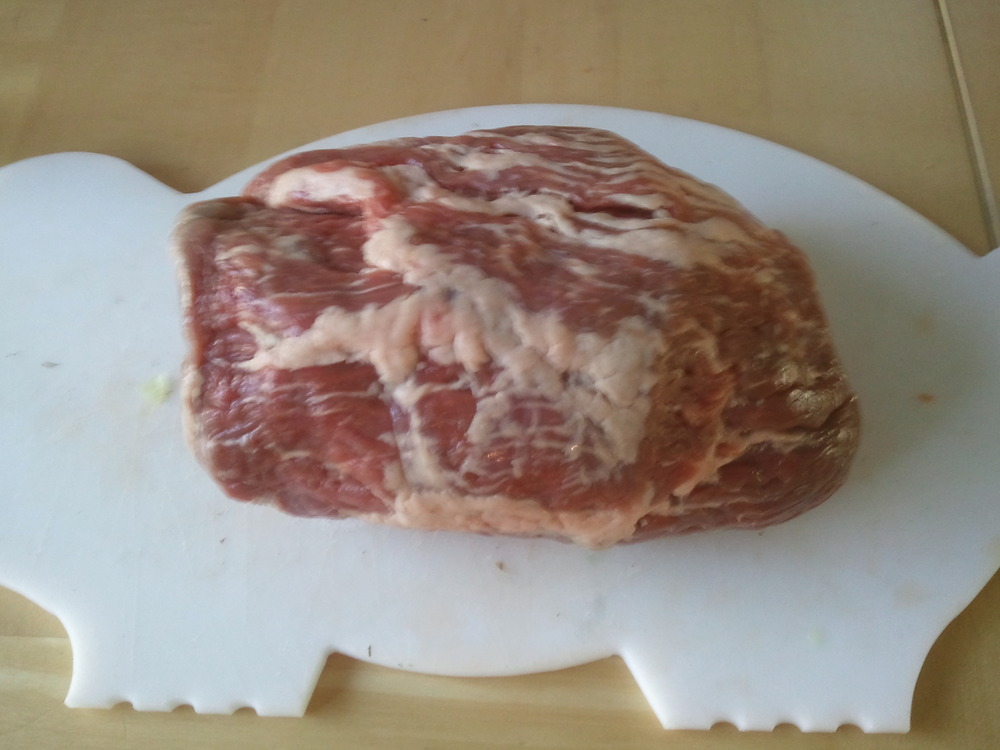 The market provided the basics, though as this particular market has stopped advertising the grade of the meat they sell (without other information I must assume it's prison meat… USDA grade F) another stop at the butcher was required. I found a nice 1.75lb brisket and made my way back to the kitchen.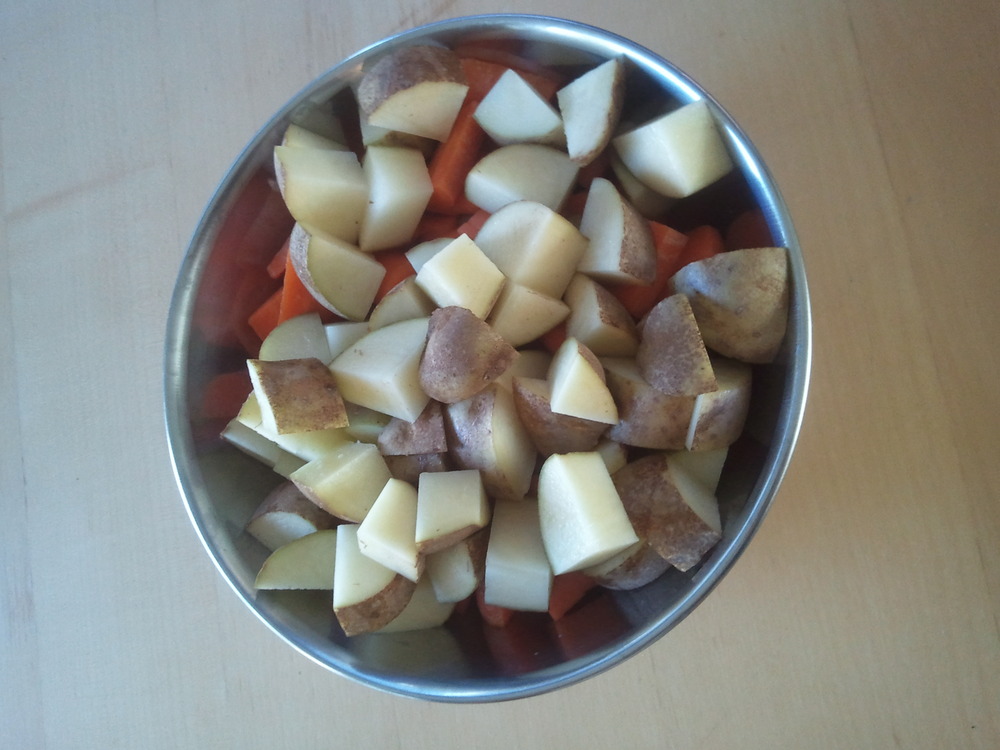 I chopped up a couple onions as well as appx. 1lb of carrots and 1.5lb of potatoes and set them aside. In a large casserole dish I browned the brisket in a little vegetable oil. The brisket was then removed and set aside and the oil drained. The onions were added and cooked for 3-4 minutes, followed by the rest of the veggies, which cooked together for another few minutes (you can see how exact I am with measuring in the kitchen… at least aside from when installing countertops). Next I added a couple tablespoons of flour to thicken things up and blended in the beef stock and a few swigs shy of one 14.9oz can of Guinness. The mixture was brought to a boil then removed from heat before adding a few thin slices of ginger root, brown sugar, mustard, curry paste and some salt and pepper.
The happy brisket was now returned to it's loving bed of vegetables and stout for baking!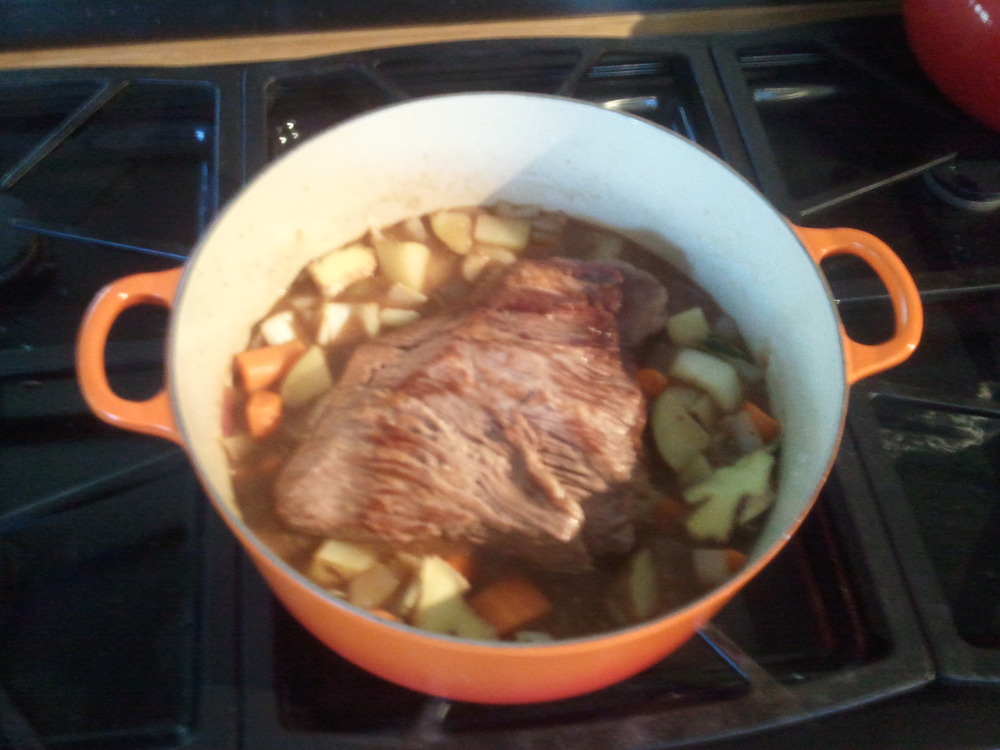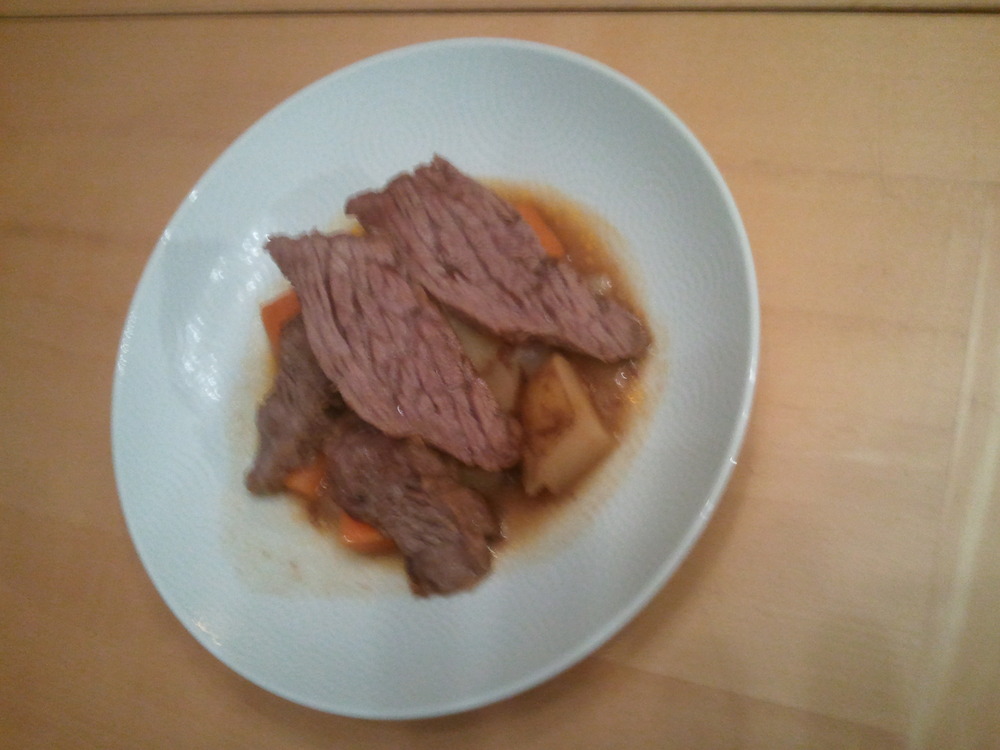 Ingredients:
2 tablespoons oil
1.75lb beef brisket
2 coarsely chopped onions
1lb of bok choy, cut into large chunks
1.5lbs of potatoes, cut into large chunks
2 tablespoons flour
2 cups beef stock
1 can of Guinness
1 teaspoon brown sugar
3 thin slices of ginger
2 tablespoons whole grain mustard
2 tablespoons red curry paste
salt and pepper to taste
Directions:
1.     preheat oven to 350°F
2.     heat oil in large casserole and brown brisket on all sides; remove and drain
3.     add onion and cook  until tender, stirring constantly
4.     add bok choy, carrots and potatoes and cook for an additional 3-4 minutes
5.     add flour and cook for one more minute; blend in Guinness and stock
6.     bring to a boil, stirring constantly
7.     add ginger, sugar, curry paste, mustard and salt and pepper
8.     place brisket on top and cover; place in oven and cook for about 1.5 hours or until meat and vegetables are tender
Category Lactose Free, Mains, Uncategorized | Tags: beef brisket, brown sugar, curry, ginger, Guinness, mustard
---