11
First of all…wow! Thank you all for the support, encouragement, comments, and words of wisdom. "I'm not writing in a vacuum! There are people out there! Hooray!" Thanks to you all, Old Spice Man generated more hits in one day than any other post, save for when Food & Wine re-tweeted my Short Ribs (which I was embarrassingly excited about.)
But enough whining and philosophizing about The Writer's Process…let's get back to the food. And damn good food at that.  This year we had the pleasure of participating in Hand-Farmed Organic's first community supported agriculture (CSA) project. We signed up for a half-share, which proved to be plenty for two of us, so every other week Casey would drop by our house at the end of the day and deliver a wax covered cardboard box brimming with beautiful vegetables. Perhaps the only one more excited about its arrival than I, was this guy, who proved to be a veritable vegetable lover.
Duke would eat just about anything…carrots, squash, and what quickly became his favorite…the radishes which he would bat around the house, sneak up on, and dive bomb from the top of the stairs until it rolled under the couch at which point he would flop down and look at his lost treasure beseechingly until Matt or I caved and got it back out for him.
In each and every box there were delicious fruits and vegetables…and then there was the kale. The freaking kale that just kept coming and coming and always seemed more bountiful and plentiful than the week before. I tried making Kale Chips like my friend Karla, but they weren't nearly as good as hers…I made a Kale and Gruyere Frittata, but there's only so many of those you can eat, and once or twice I guiltily yard-wasted the kale when the new box arrived and I still hadn't done anything with it.
Up until last night it was Kale: 10, Erina: 0.
Until last night, when trying to think of a starch I could make for our friend CJ who is wheat intolerant I stumbled across a polenta and spinach gratin. I love all gratins (I mean, what's not to love, creamy unhealthy deliciousness), and thought there's no reason I couldn't substitute kale for spinach.
It was outstanding. The polenta in the tube couldn't be easier, and the recipe calls for 8 cups of Kale, which totally cleaned out my supply and rendered me obnoxiously triumphant.
The perfect side to a yummy fall dinner.
Polenta Gratin with Kale and Cremini Mushrooms
Adapted from Food & Wine
Serves 4-6
2 tablespoons extra-virgin olive oil
12 ounces sliced cremini mushrooms (5 cups)
1 large shallot, minced
8 cups kale, center stems removed, washed, dried, and coarsely chopped
Salt and freshly ground pepper
1 tablespoon unsalted butter
1 tablespoon all-purpose flour (I used rice flour)
3/4 cup beef stock (or vegetable stock)
1/2 cup whipping cream
Pinch of freshly grated nutmeg
One 18-ounce log of prepared polenta, cut into 1/4-inch slices
3 ounces Gruyère cheese, shredded (1 cup)
Preheat the oven to 350°. In a large nonstick skillet, heat the olive oil. Add the mushrooms and cook over high heat, stirring occasionally, until lightly browned, about 6 minutes. Add the shallot and cook over moderately low heat for 3 minutes. Add the kale and cook over high heat until the kale has wilted, about 2 minutes. Season with salt and pepper. Spread the kale and mushrooms evenly in a 2-quart baking dish.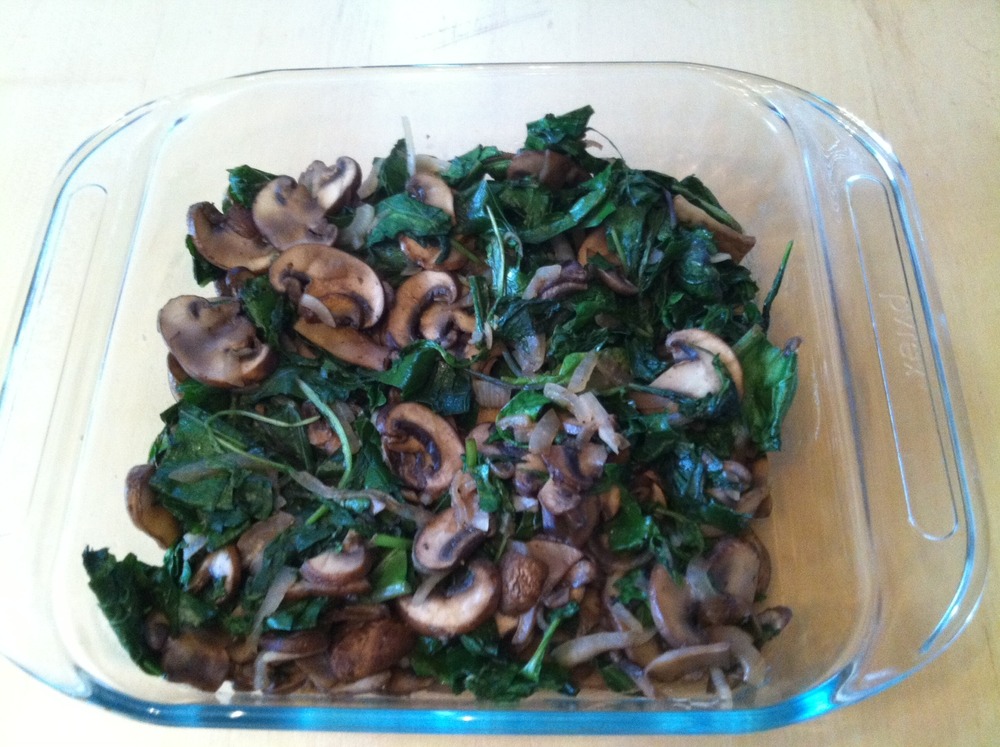 In a small saucepan, melt the butter. Whisk in the flour over moderately high heat. Add the stock, cream, and nutmeg and whisk until thickened, about 10 minutes. Season lightly with salt and pepper and pour over the kale. Arrange the polenta slices on top of the kale in overlapping concentric circles, pressing to submerge the polenta slightly. Sprinkle the Gruyère on the polenta, cover with foil and bake for 40 minutes.
Preheat the broiler. Uncover the polenta and broil 6 inches from the heat for about 2 minutes, or until golden. Let stand for 10 minutes before serving.
 Make Ahead The unbaked gratin can be refrigerated overnight.
Category Comfort Foods, Entertaining, Make ahead, Seasonal Cooking, Sides, Uncategorized, Vegetarian | Tags: gluten free, gratin, hand farmed organics, kale, mushrooms, polenta, wheat free
---