0
"How do you all know each other again?"
"We're COUSINS!!"
"Oh…huh. Really? Okay. Well, you ladies want a beer?"
So went many conversations during our week adventure in Puerto Rico. Perfectly normal to us that four cousins would fly across the country, pile into a pimped out Honda Accord with a decidedly loud muffler, and explore all over the island, turns out that's not most folk's M.O. But it is ours….and it was fun.
The last to arrive in San Juan, I was greeted curbside at midnight by three beauties hanging out of the car with the tunes blasting. From there we would spend a week sunning, laughing, dancing, snorkeling, kayaking, horseback riding, and naturally, eating.
They say that Puerto Rico isn't know for its food, and I would be tempted to agree. There is an abundance of slightly tired, deep-fried "things" (sorry, can't think of what else to call them), but the real culinary beauty of PR comes in the incredible fruits and vegetables that one can buy for next to nothing from little stands on the side of the road.
This Mang0-Cucumber salad was the perfect accompaniment to the Citrus Shrimp (recipe coming) and Pilaf we enjoyed our first night at the Culebra Beach Villas.* Exceedingly simple and fast to prepare, it is also very refreshing. We were out of avocados, but you could definitely toss some of that in as well. Serve when looking out at the ocean from your private villa, feet covered in sand, cheeks kissed with sun, and surrounded by the laughter and love of dear family.
Mango Cucumber Salad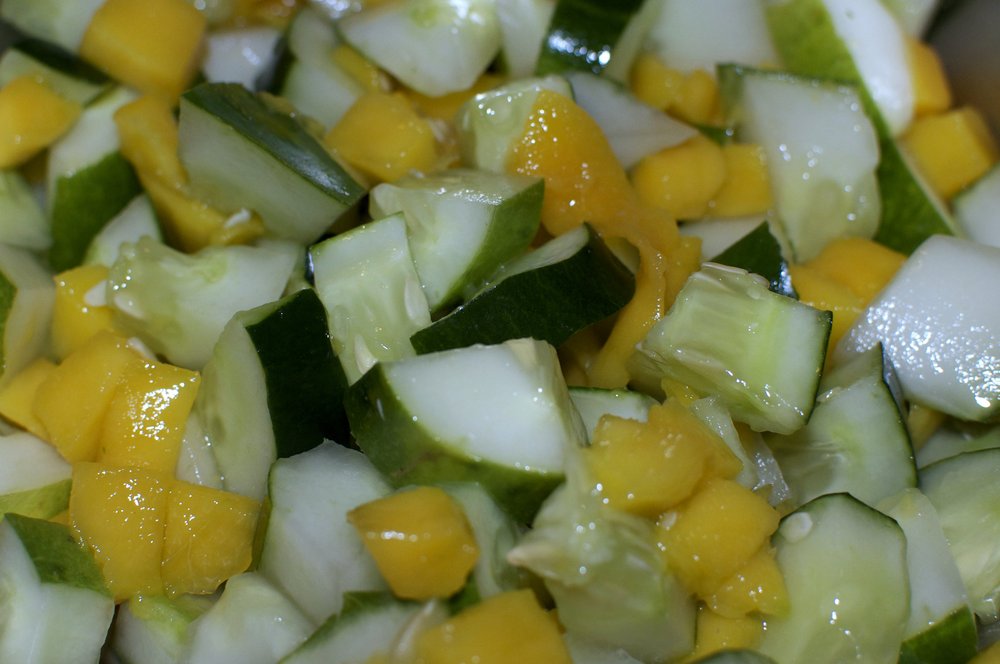 2 large cucumbers, peeled and diced
2 large mangoes, peeled and diced
1 lime
Salt and Pepper
Mix the cucumbers and mangoes in a large bowl. Cut the lime in half and squeeze the juice over it. Add salt and pepper to taste. Enjoy!
*For the record, these villas are outstanding. We stayed in 2B, and it literally was steps from the beach, with grand vistas out to the ocean and surrounding cliffs. Culebra itself is a small island approximately 17 miles off of Puerto Rico. Accessible via ferry it offers the perfect respite from the bustling, and at times overwhelming, San Juan. The people are lovely, the pace relaxed, and the beaches breath-taking.
**All photos by my lovely cousin Annie Laurie Malarkey.**
Category Health Conscious, Month of Exploration, Salads, Uncategorized, Vegetarian | Tags: avocado, cucumber, culebra, culebra beach villas, mango, mango cucumber salad, Puerto Rico
---