33
Recipe: Buffalo Chicken Salad with Chipotle Dressing, Avocado, and Goat Cheese
I grew up as one of six of an incredible group of friends. The first of us met as babies, followed by another pairing at toddlers, and the rest sprinkling in after that. We were the first introduction each had to the idea of a soul mate.
Nearing three decades later, we are still thick as thieves, getting together each year for an assortment of festivities, weddings, holidays, just-because,  and our annual Great Escape; a mystery weekend in which one gal is responsible for planning three nights of adventure and you don't find out your destination until 24 hours before.
With an uncanny sense of when we each need each other, we can be found popping around the country outside of the group gatherings , arriving at airports and on doorsteps bringing years of history, a refusal to let each other forget our most embarrassing moments, and a kind of comfort that makes it hard to imagine there could be anything much better.
This past weekend Meghan flew up from San Diego, upon which followed lazy mornings and late nights, artistic adventures at Seattle Art Museum's REMIX, and Sunday mornings at Cappy's Boxing Gym. We laughed, we listened, we dreamed, we feared. It was love.
This lunch came together spontaneously on Friday and was such a success it quickly rose to the top of the "Recipes to Post" list (and so Meghan can recreate it at home). It is healthy, yet hearty, fast, yet a treat. Perfect for a weekend lunch, or weekday dinner.
The combination of the crunchy romaine, coupled with the smoky chipotle dressing, calmed by the goat cheese and avocado, and finished with the buffalo chicken is hard to beat if you ask me.
Buffalo Chicken Salad with Chipotle Dressing, Avocado, and Goat Cheese
Serves 2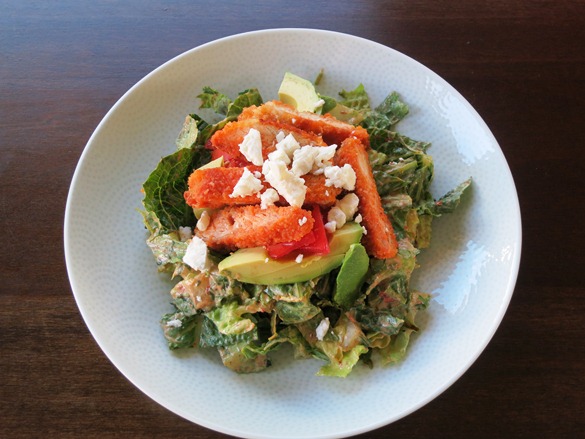 12 ounces chicken tenders or boneless, skinless chicken breasts, cooked and allowed to cool slightly (I like the Tyson Panko Breaded Chicken Breast)
Franks Buffalo Sauce
1 head romaine, washed and coarsely chopped
1 avocado, halved, pitted, and diced
1/2 tomato, diced
2 ounces goat cheese
Chipotle Dressing

1/3 cup chopped fresh cilantro
1/2 cup plain nonfat Greek yogurt (I like Chobani) or light sour cream
1 TB minced chipotle chile, canned in adobo sauce
1 TB adobo sauce from chipotle
1 teaspoon ground cumin
1 teaspoon chili powder
4 teaspoons fresh lime juice
1/4 teaspoon salt
Combine dressing ingredients, mixing well, and season to taste.
Toss romaine with dressing and divide evenly among two plates. (You will have some extra dressing…great added to scrambled eggs).
Toss chicken with Franks Buffalo Sauce, enough to coat.
Add avocado, tomatoes, and goat cheese to plates and finish with chicken.
Serve immediately.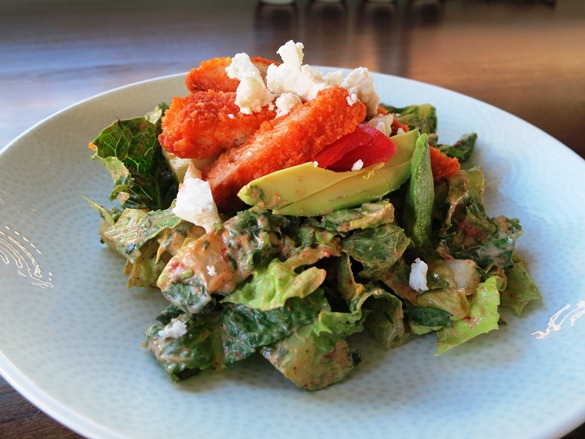 Category Health Conscious, News, Salads | Tags: chipotle dressing, Gestational Diabetes Meal Ideas, hearty salads
---