17
Recipe: Fig and Goat Cheese Morsels Drizzled with Truffle Honey
I like a good party. Always have, and suspect I always will. Dinner parties, cocktail parties, dance parties in the kitchen when no one is looking, I like them all.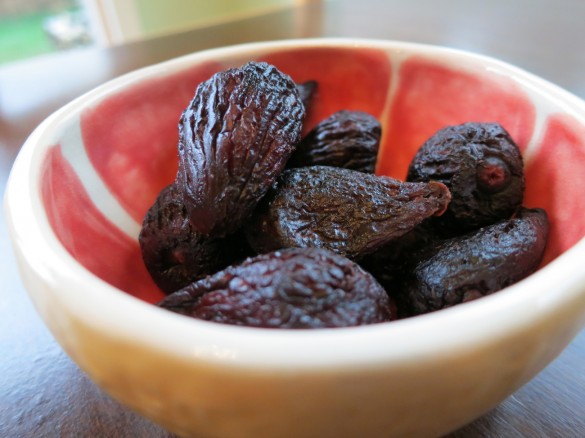 When it comes to entertaining the appetizers are often my favorite piece to put together. Perfect little bites that can be as naughty and indulgent as you like. When you add in phyllo dough (the WonderBra of cooking; everything looks better with it), you literally can't go wrong.
The inspiration for these little beauties came to me as I was trying to think of a twist on the expected from the traditional spinach and feta triangles I usually make. The combination of the rich, creamy goat cheese, punctuated by the figs, nestled in the phyllo and finished with truffle honey is truly exceptional. The best part? These can be put together in less than 15 minutes, and would be equally good as an appetizer or savory dessert.
Fig and Goat Cheese Morsels Drizzled with Truffle Honey
Makes 16, multiply as necessary

2/3 cup figs, finely chopped (this time of year I couldn't find fresh, so I just got the SunMaid California Mission Figs, which worked surprisingly well.)
4 ounces goat cheese, room temperature
2 sheets phyllo dough
3 TB butter, melted
Truffle Honey
Preheat oven to 350 degrees. Lightly grease 16 cups of a mini-muffin tin.
Mix the figs and goat cheese until coarsely combined.
Remove one sheet of phyllo and lightly brush with melted butter. Add the second sheet on top and brush with butter again.
Using a 2.5″ round cookie cutter cut out 16 circles (Truth: I don't have a 2.5″ round cookie cutter, so I just cut 2.5″ squares).
Press the phyllo into the muffin tin, making small nests.
Divide the fig and goat cheese filling evenly among the nests, and brush the edges with butter.
Bake 10-12 minutes until golden brown and goat cheese bubbling.
Drizzle with truffle honey and serve immediately.
Category Appetizers, Entertaining, Make ahead, News | Tags: easy appetizers, fig and goat cheese appetizer, gourmet appetizers, make ahead appetizers, truffle honey
---