6
By now you've probably guessed that I can be a bit of a food snob. I rarely eat fast food, I don't think twice about spending $20 on a hunk of cheese (but am appalled at how expensive the car wash is), and whenever I do get something pre-packaged at the grocery store I find myself offering a long, bumbling, drawn out excuse to the check-out teller, who frankly couldn't care less, about why I'm buying Annie's Macaroni and Cheese (to donate to the food bank obviously).
This weekend our lovely neighbors and neighborhood were planning a Spring Cleaning to get the streets a bit spruced up post-Winter, throw away the cans of Steel Reserve that had accumulated in the drains, and generally continue to signify to our transitional neighborhood that somebody does now actually care about it.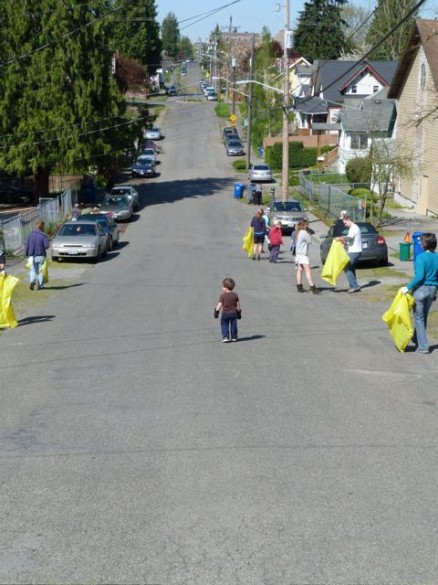 Our friends Brent and Ila Sole (don't you wish that was your last name?!) offered to host a post-cleanup brunch featuring Bloody Mary's, Mimosas, Fresh Baked Scones, and a few egg dishes. Ila did an amazing Artichoke Strata which I've already put in my bid to get the recipe for, and I decided to do a Turkey Sausage Egg Bake that been sitting in my inbox for years, helpfully labeled as "Recipes to Try".
This recipe came my way via one of those Recipe Exchanges and is inspired from Chile, Corn & Croissants: Delicious Recipes from New Mexico Inns by Joan Stromquist. I have to admit that when I saw it called for shredded, bagged hash browns my snobby meter went off, but I pushed through…and boy am I glad I did.
This thing is delicious! A wonderful brunch addition, you can assemble it in advance, and use it as a base to throw whatever leftovers you have into. It is quite heavy, and not altogether healthy, so I wouldn't suggest it all the time, but for a sunny, Sunday brunch with good friends, and happy dogs romping in the background, it was just the ticket.
Serve with Mimoas, Bloody Mary's, and a side of Neighborhood Activism.
Turkey Sausage Egg Bake
Serves 8
3/4 pound Italian spicy turkey sausage
1 red bell pepper, seeded and chopped
1 red chile pepper, roasted, peeled and chopped
1/2 small yellow onion, chopped
2 medium tomatoes, seeded and chopped
1 pound package frozen hash browns, thawed (if you forget to thaw them until the morning of, like I did, just pop in the microwave for about a minute until broken apart)
1 tsp seasoned salt (or to taste)
1.5 cups cheddar cheese, grated + extra for topping
8 farm fresh eggs
Preheat oven to 350
In a large skillet, place the sausage and cook it on medium heat so that
it is brown. (Do not drain the grease). Add the bell peppers, red chile
peppers, onions and tomatoes. Saute them for 5-7 minutes, or until the
onions are tender.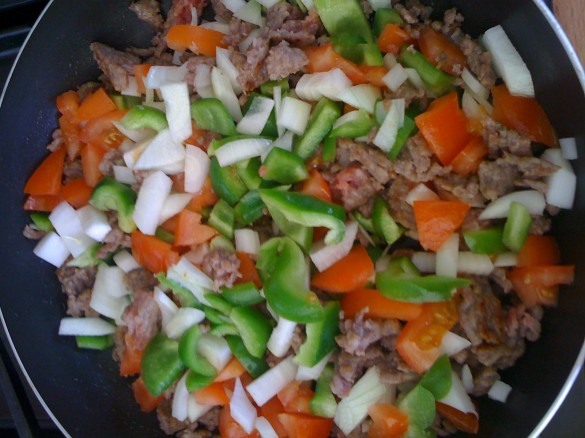 Add the hash browns and saute them for 5 minutes. Add the seasoned salt
and stir it in.
Add the cheese and heat it for 2 minutes, or until it begins to melt.
Place the mixture in a lightly greased medium baking pan. Make 8 divots
in the mixture with a spoon. Place one egg in each divot. Sprinkle tops with remaining cheese.
Bake the casserole for 30 minutes, or until the eggs are done, and the cheese on top is bubbling.
**Darling doggy photos compliments of the lovely Nadia Flusche.**
Category Breakfasts, Cheap Eats, Entertaining, Make ahead | Tags: baked eggs, brunch, Cane Corso Mastiff, columbia city, egg casserole, eggs, turkey sausage
---