4
When I think back on significant life events…certain wonderful memories spring to mind.
The first time I rode a horse.
My first kiss.
The first time I discovered the joys of Excel pivot tables.
As every ying must have its yang, I also have less than pleasant memories seared in my mind.
The first time I fell off a horse.
The first time a guy didn't say "yes" when I asked him out (frankly, I'm still shocked)
The first time other people realized that I knew how to work Excel pivot tables.
But perhaps no moment was more upsetting, more devastating, more life-changing than the moment my husband unequivocally declared to me those words every spouse most fears hearing:
 "I am lactose intolerant."
Like any good Yankee I went through the necessary phases of denial, anger, espionage (secretly trying to add dairy to Matt's meals, convinced it was all in his head) and shame.
Two years later I am proud to say that I have finally processed this reality and am working towards finding ways to peacefully live with it. It does mean that whenever I go out to eat I almost always order something with dairy, or that whenever I host book club the ladies can be assured of a cheese laden menu. There are even moments when I just beg forgiveness and cook something with dairy anyway. But most of the time, I find that my marriage is better if it's dairy free.
Discovering this Smoky Chicken Paprikash dish was like winning the lottery because it's healthy, easy, and despite being very creamy and delicious, dairy free.  A perfect weeknight dinner, serve with some brown rice and mixed green salad. Great leftovers too.
Smoky Chicken Paprikash (Adapted from Fitness Magazine)
Serves 4
4 tsp canola oil
1 1/4 pounds boneless, skinless chicken thighs, trimmed and cut into 1-inch pieces
1/2 teaspoon kosher salt plus additional to taste
1/4 teaspoon freshly ground black pepper plus additional to taste
2 medium red bell peppers, cored, seeded and thinly sliced
1 large onion, halved and thinly sliced
1 tablespoon minced fresh garlic
1 tablespoon smoked sweet paprika
1/2 cup dry white wine
14 oz can diced tomatoes
1/2 cup reduced-sodium chicken broth
1 teaspoon all-purpose flour
1/3 cup dairy free sour cream (such as Tofutti)
1 tablespoons minced fresh dill
2 teaspoons fresh lemon juice
1. Heat a 12-inch nonstick skillet over medium-high heat; add 2 teaspoons of the canola oil. Season the chicken with the salt and black pepper; add to the pan. Cook 2 to 3 minutes to sear. Turn and cook 2 minutes more. Transfer to a plate and tent with foil to keep warm.
2. Add remaining oil and the bell peppers and onion to skillet. Saute, stirring occasionally, until softened, 6 to 8 minutes.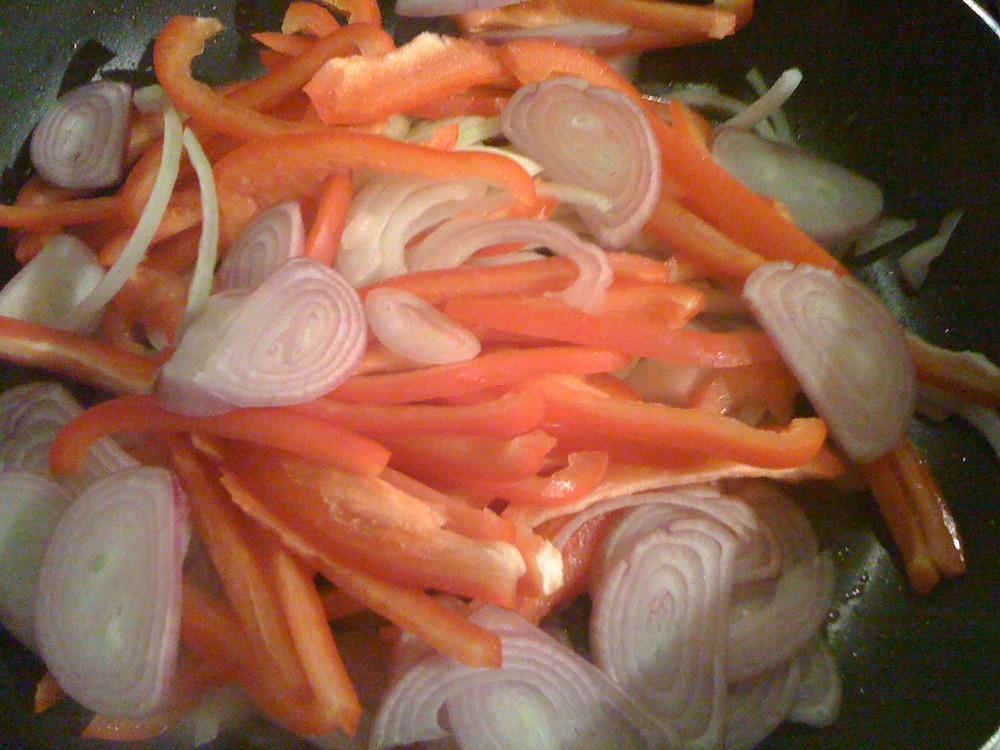 3. Add the garlic and paprika; saute until fragrant, about 1 minute. Add the wine and cook, stirring frequently, until nearly evaporated, about 2 minutes. Add the tomatoes and chicken broth and bring to a simmer.
4. Return chicken to skillet, reduce heat to medium low and simmer until chicken is just cooked through, 2 to 3 minutes.
5. In a small dish, whisk the flour into the sour cream. Slowly add to the sauce and simmer 3 minutes more. Stir in the dill and lemon juice and season to taste with additional salt and black pepper. Serve over brown rice.
Category Health Conscious, Lactose Free, Poultry, Uncategorized | Tags: brown rice, chicken, lactose free, lactose intolerant, paprikash, sour cream, tofutti
---